Aregbesola Commissions Another Elementary School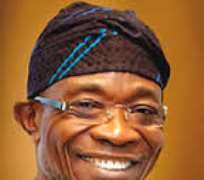 The Governor of Osun State, Ogbeni Rauf Adesoji Aregbesola, has commissioned another school, St. Augustine Elementary School in Ipetumodu, Osun state.
In his speech, Aregbesola disclosed that the beneficiaries of all the newly established modern schools would pay N500 every term for the maintenance of the buildings and all learning materials provided in them.
His words, "If you will struggle to pay the maintenance fee, do it. This will only show that you appreciate our efforts."
He however stated that the government has no connection with the fee but that each school will open an account for the fee and use the money to properly take care of the buildings and its facilities.
The Governor emphasized the efforts of his administration at providing such modern school of learning to the public and mainly the less privileged.
He said there is hardly a federal constituency that does not have such modern type of school.
Aregbesola, who explained that the state government is not rich enough to finance such projects, however, posited that the lack of money should not an excuse not to deliver worthwhile projects that will benefit the society.
While urging the school management to take care of the building and all the materials provided in it to last for at least 50 years, the State Governor also implored parents to make sure that they procure at least two uniforms for their children, while also urging them to shun lateness, dirtiness and absence of their children from school.