Vote Smart and Get others to Vote today- Nov. 7: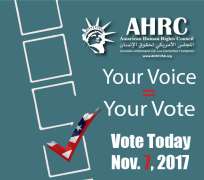 The American Human Rights Council (AHRC-USA) urges all Michigan voters to actively participate in the General elections today
Tuesday, November 7, 2017.
AHRC calls upon all to volunteer to provide assistance to those with special needs on Election Day. Polls open from 7:00 a.m. until 8:00 p.m.
AHRC-USA encourages all Michigan residents to cast a smart and informed vote. In a democracy, voting matters.