Federal Government Targets N5tn from Non-Oil Export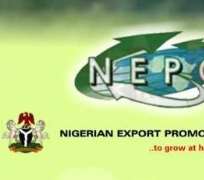 The Federal Government through the Nigerian Export Promotion Council plans to grow the country's non-oil export revenue from N1.5tn per annum to N5tn within the next three to four years.
The Executive Director/Chief Executive Officer, Nigerian Export Promotion Council, Mr. Olusegun Awolowo, confirmed the figure to our correspondent in Abuja.
To achieve the target, he said the agency was implementing an export competency development programme that would offer the Small and Medium Enterprises the needed capacity to add value to their products to attract higher profit margins.
He said under the export competency programme, three products would be focused on at the pilot stage. They are cashew, cocoa and sesame.
The NEPC boss explained that adding value to raw materials would not only create higher profit margins, but it would also generate more income and jobs.
Awolowo said through the programme, the Federal Government would depend less on oil revenue in the next few years.
He said, "We are at a critical point in Nigeria's history, which requires bold and decisive action to restructure and reposition our economy to survive without crude oil.
"The council's goal is to grow Nigeria's non-oil export revenues from N1.5tn per annum to N5tn within three to four years and over N10tn over the longer term. The economic consequences are sure for our country to keep crude oil as its primary source of export revenue."
He said the Federal Government was committed to the development of the non-oil export sector.
This, he added, became imperative owing to the huge revenue loss caused by the decline in oil prices.
He said, "Our export outlook in 2017 shows some positive developments. In cashew, for example, a lot of cashew plantations with jumbo varieties are springing up. From a raw cashew production of about 150,000 tonnes, 15,000 tonnes are processed in Nigeria, which is about 10 per cent.
"We see the enormous potential in processing. The Federal Government is strongly committed to the development of the non-oil export sector. Just last month, the National Economic Management Team established the National Committee on Export Promotion to ensure effective coordination of the zero oil plan in all the 36 states of the federation.
"Nigeria lost over $30trn of nation export revenues between 2015 and 2017 due to the crash in oil prices. Nigeria must replace these lost revenues in order to sustain economic growth, stabilise the naira, sustain the federal and state governments' income and boost employment. There is therefore the urgency to rapidly ramp up non-oil exports as our future earnings for crude oil are facing significant headwinds."
Source: Punch