Atikulating 2019: Another Latecomer in the Ring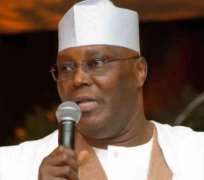 It is audible to the deaf and crystal clear to the blind that the race to Aso Rock has kicked off. While the innocent public are still biting their fingers for enthroning an old man who spend more days for medical tourism than governance, surprisingly his age bracket are now aspiring for same post. The current occupant of Aso rock is not in touch with reality anymore, his cronies have been in control since May 29, 2015 when he was sworn in. Therefore, we should not repeat same mistake.
Atiku Abubakar is good and qualify to lead Nigeria but the hand of clock is against him. The year 2007 would have been his best time to do so but his former boss was against him. The same boss has vowed that Atiku will not rule Nigeria in his lifetime and this is becoming a reality. However, his former boss is not God but Nigerians cannot afford another government by proxy cabal like Buhari's government.
My candid advice for Atiku Abubakar is that he should accept his fate and forget this ambition he has been nursing since 1992. He should lend his support to a younger candidate who shares his ideology. Although, he has been betrayed several times by his mentees, he should not relent in grooming more.
Dear Atiku, you should not run for president anymore as Nigerians don't deserve anyone in his 70s to lead again. I will advice you to use your proposed campaign fund to create more employment opportunities for the teeming youth instead of money suckers in political space.
I hereby enjoin all political parties to present agile, vibrant, competent, and nationally acceptable candidates that will give room for Nigerians to chose from best of the best. We don't deserve another mess in 2019 like the current government of pettiness and confusion.
"Breaking News, President Buhari has approved medical treatment for Alex Ekwueme in Abroad". It is pettiness to approve such for a former Vice President who's healthcare is covered under his entitlement as Ex-VP. May God forgive those people that brought Nigeria to this low level.
Ifedayo Obi,
Lead Partner, Good Governance Advocates.