Pastor Adeboye reacts to controversy over tithing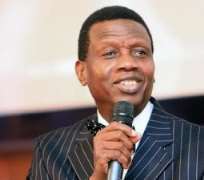 THE General Overseer of The Redeemed Christian Church of God, Pastor Enoch Adejare Adeboye, has warned Christians against strange sermons that negate the biblical principles at the foundation of their faith.
Adeboye who was reacting to  the recent tithe controversy on tithe, which has been trending on the social media, advised Christians especially his members on the dangers attached to none compliance to paying of tithe.
The revered man of God popularly known as daddy GO by millions of his followers and admirers, spoke while delivering a sermon tagged: Breaking Forth during a special prayer programme for Fathers, Intending Fathers and their families at the national headquarters of the church, Throne of Grace Parish in Ebute-Meta, Lagos, on Sunday.
  Adeboye said that Christians are obliged to obey God's instructions, including paying of tithe as failure to do so may attract a curse.
According to him, obedience to God is a key factor in  breaking forth.
The General Overseer, who used the  opportunity to react to controversial online personality, on payment of tithe.
Daddy Freeze was quoted as saying  said no Nigerian Prophet, Pastor or General Overseer is qualified to receive tithes from their members, saying that tithe was meant to be eaten with our families in the house of God, it is biblical to use your tithe and buy beer and drink in the house of God.
Adeboye while faulting Freeze' position, said: "Avoid divine curse like a plaque, somebody show me something on the internet on the question of paying tithe or not and the fellow said tithe is suppose to be used to buy alcohol and drink in the church.
"Now you know who is talking, even mad people will not come to church to drink alcohol, no matter how crazy that fellow is, asked him to come to church and drink beer, he will tell you that he is not that crazy, because even in his madness, he knows that it is the house of God and he will refuse to do such thing. But this fellow said otherwise that tithe ought to be used to drink alcohol.
"I know who is talking and I did not want to worry myself about such person. But please do not let anybody get you into trouble by attracting God's curse to yourself, please pay your tithe. I have said it before and I will say it again and again, if your physical father curse you, it can be cancel by your spiritual father, if your spiritual father curse you it can be cancel by the general overseer, if your general overseer curse you, you can fast and pray to your father in heaven but it God curses you, where will you go?"