Man, 29, sentenced to 26 years in jail for raping 10-year-old girl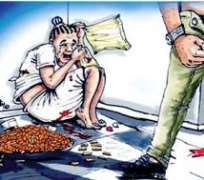 Pius Okoligbo, 29, a commercial motorcyclist from Benue State, has been convicted for raping a 10-year-old girl (names withheld) in Mafoluku area of Oshodi, Lagos. The convict committed the crime in December 2016.
But he will spend only 26 years in jail because the judge who heard his case was lenient as the law provides for life jail for rape in Lagos State. forcing me for sex The state Criminal Code Law (2011) in Section 258 (1) states that "any man who has unlawful sexual intercourse with a woman or girl, without her consent, is guilty of the offence of rape and liable to imprisonment for life".
The sentencing of Okoligbo by a Lagos State High Court, Moloney, last week Tuesday, was seen as a victory for females, especially the girl-child who is vulnerable to all forms of abuse. Mr Kingsley Mbachi, the father of the child, said justice had been done in the case.
The abuse "The abuse happened last year. I got to know that my child was abused and I reported to the Makinde Police Station but when I wasn't satisfied about their handling of the case at the police station, I went to Alausa where I met a man, Mr Iyapo, who saw me dejected and decided to help me. He showed me how to go about getting justice", the father said as he narrated to Sunday Vanguard his travails in the course of seeking justice for his child.
Mbachi went on: "At the Ministry of Youth and Social Development, I was referred to MIRABEL for necessary medical treatment and, at the same time, to Mr Ebenezer, the Child Protection Network Co-ordinator at Oshodi Local Government Area. After interviewing me, Mr Ebenezer interrogated my daughter and we went to the police station (Makinde) but we couldn't produce the suspect because he fled when he noticed I was not resting on the case. "He was arrested after I found him where he was riding commercial motorcycle about one week later.
"Pius is my neighbour's brother and comes to sleep in the house in the night. He was not staying in our house permanently. The mother (of the victim) and I were not around when he raped my daughter. My child, who will always run to me and cling to me to welcome me any time I returned home from work, was just withdrawn on the day she was raped. I was worried as a father and I and the mother interrogated her.
What surprised me was she had been brain washed not to tell us anything. She asked us if she will not die if she told us the truth. We assured her that she was going to live and no one had the right to take her life. That was how we got to know that my 10-year-old loving daughter had been raped. And that was a week after the defilement had taken place. "MIRABEL didn't tell us the result of the test carried out on our daughter but they confirmed there was penetration. We continued to take her to MIRABEL for treatment at no cost." On the psychological state of the child, Mtbachi said his daughter was okay. "We love our daughter and the first we did was to move from that environment and she is doing fine with her studies", he said.
On the reaction of her daughter to the conviction of the rapist, the father said, "She is a little girl. I just told her what happened and, as she was always saying, she said the man is wicked and deserved to be punished. She was happy". He added, "Despite his (convict) four lawyers, they were floored and government lawyer has promised they will fail 100% anywhere in the world if they try to appeal".
On the reaction of neighbours to the conviction, he said, "I told you we have relocated but communication between us and Pius brother who was our neighbour is cut off because I really disturbed him. Nothing can bring us together for what his brother did to my daughter. It is just that we handled our daughter with care otherwise the rape would have affected her psychologically. "I look at molesters as killers in the society.
For such an act to be done to innocent children, they are inhuman and should not live among normal people". 'Don't go to the police. They will kill case' Advising children, he said, "Whenever such heinous act happens, children should open up to their parents because parents are their best friends. And parents should get up immediately and act just like I did. If they do not know where to run to, they should ask questions but they should not go to the police because they will kill the case. The only way is to report to the office in charge of child protection.
"To the people who helped me to get justice, especially Mr Iyapo, Mr Ebenezer, MIRABEL, the state Ministry of Justice, I thank God for using them. If government continues to work like this, molesters will soon be wiped out. Nobody charged me money throughout the period. Government took over everything and got justice for my daughter".
'How justice was served' Mr Ebenezer M. Omejalile, Co-ordinator, Child Protection Network (CPN) in Isolo and Oshodi LGAs, Lagos State and Head, R and Referrals for CPN in the state, narrates how justice was done for the 10-year-old victim. "The case was refered to my office because the incident happened at Mafoluku area which is within my jurisdiction", Omejalile said. "I interrogated the girl and she opened up on how the accused, Mr Pius Okadigbo, a commercial motorcycle rider who did not live permanently in the compound but always coming in the night to sleep in his brother's place, defiled her.
She said he was always sending her an errand. She said the abuser on that particular day in December raped her when she went to give him something to sign for her. According to her, he dragged her inside and threatened her with knife if she dared to shout while telling her that she must not tell anybody what happened when he eventually raped her. She said the abuser attempted to rape her the second time few days after when he dragged her under the staircase but when he heard footsteps of neighbours approaching, he let her go.
"According to the father, the girl was moody and withdrawn and stopped rushing to welcome him from office as she usually did. So, the mummy and the father were worried and had to interrogate her lovingly before she opened up to tell them what happened. The father then went to report at Makinde Police Station but nothing was done. This forced him to go to the Lagos State Ministry of Youth and Social Welfare where he was referred to me. We went back to Makinde Police Station and I told them that the case was government case and had to be treated like that because they had to incident the case and give out form to take to hospital for confirmation if the girl was raped or not. "At this time, the abuser had eloped; it was the father who apprehended him and called the police for his arrest. He was charged to family court immediately but for one reason or the other, the case was transferred to Court 1 Agege and from there the abuser was remanded. "That was when the show of power and money started. We were receiving calls.
I received a call from an ACP in Abuja and a state commissioner and the family members were coming along with the police to beg with loads of money to settle out of court. I was surprised the guy has influential people like that and he rides Okada and had the guts to molest a child. "Well, I was always telling them that the case was a bad case as there was no way he was going to get out of it, especially in Lagos State. He was remanded. "You know in cases of abuse, exploitation, child defilement, child abuse, there is nothing like withdrawal. If you do so, you are liable. We were always telling them it was government case and the result had not been shown to anybody from MIRABEL which was not unusual.
It had to be sent directly to the presiding judge who will interpret it. After about four months of the suspect's detention and he had come out after meeting the stringent bail conditions, there was a sitting where the Department of Public Prosecution, Lagos State Ministry of Justice advised that he should go for trial especially when a law had been enacted in Lagos State that any rape case attracts life sentence.
He is even lucky that the he is not given life imprisonment. So the Department of Public Prosecution advised that the man should go for trial and the DPP and magistrates were always there to represent the child at the High Court because the child had to be in school. His (suspect) lawyers were resilient but justice prevailed. "We at the Child Protection Network are very happy and, for the first time, I am fulfilled because justice has been served. The DPP has done well despite the lawyers the abuser hired".
Vanguard