Niger Delta Avengers calls off ceasefire, promises to cripple oil operations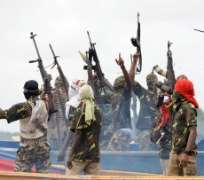 The Niger Delta Avengers (NDA)—the militant group responsible for most of last year's attacks on Nigeria's oil infrastructure—on Friday announced their return to attacks on oil installations in the oil rich Delta.
The group, which crippled oil operations in the region for the better part of 2016 bringing down Nigeria's production by close to a million barrels per day, made their come-back announcement in a message on its website.
The group had agreed to ceasefire following interventions and commitments by the Federal Government led by Vice President Yemi Osinabjo, while acting for the President, and the Minister of State for Petroleum, Ibe Kachikwu, who persuaded them cool off their attacks.,
It warned oil companies of a "brutish, brutal and bloody" end of the ceasefire in the oil-rich Delta.
"Message to the Oil Companies; Our next line of operation will not be like the 2016 campaign which we operated successfully without any casualties; this outing will be brutish, brutal and bloody, as we are shall crush everything we meet on our path to completely put off the fires that burn to flair gas in our communities and cut every pipe that moves crude away from our region. We can assure you that every oil installation in our region will feel warmth of the wrath of the Niger Delta Avengers," the militant group said in a message on its website posted on Friday.
Last year, the NDA had carried out most of the attacks on oil infrastructure in the Niger Delta that had crippled Nigeria's oil production to the point that it won an exemption from OPEC's production cut pact.
Since the start of this year and a ceasefire announced by several militant groups, the restive region has been relatively calm. Nigeria's oil production started to gradually increase—to the point of boosting OPEC's overall oil production and capping oil prices—together with production gains in fellow exempt OPEC producer Libya, as well as with U.S. shale's resurgence.
In August and September, Nigeria's crude oil production exceeded 1.8 million bpd, according to OPEC's secondary sources. This 1.8-million-bpd was the tentative threshold given by Nigerian Oil Minister Emmanuel Kachikwu for Nigeria potentially joining the cuts.
But the minister has reiterated that the country needs to see stable production at that level for several months before committing to trimming production.
The latest threat by the Niger Delta Avengers highlights the uncertainty of Nigeria's further production recovery and possibly, a new conflict-related premium for oil prices.