Delta Government Has Paid Over 8,600 Students for 2015/2016 Session, Says Ukah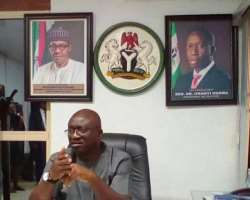 Mr. Patrick UkahDelta state Commissioner for Information
The Delta State Government has clarified that over 8, 600 students of Delta origin in 70 tertiary institutions across the country have received payments from the Delta State Bursary and Scholarship Board for the 2015/2016 academic session.
This is contrary to insinuations making the rounds in some quarters that the scheme has been cancelled by the state government.
The state Commissioner for Information, Mr. Patrick Ukah, in a statement in Asaba on Wednesday, disclosed that the Board commenced payments of the bursary for the 2015/2016 academic year since May 11, 2017 to various tertiary institutions across the country, adding that the payment of the bursary to students was currently on.
Mr. Ukah disclosed that through the self-verification exercise introduced by the Board, many irregularities such as multiple registrations by students, participation of non-indigenes in the exercise as well as persons who had since graduated were discovered.
The statement disclosed that during the verification exercise, it was discovered that out of the sixteen thousand, four hundred and ninety nine (16, 499) students that applied for the state Government Bursary and scholarship programme, only fourteen thousand, six hundred and fourteen (14, 614) students were qualified to receive the state bursary.
On the cause of the delay in the payment of bursary to students, the Commissioner for Information frowned at the attitude of the authorities and management of some higher institutions for the late submission of the list of students of Delta State origin in their various institutions to the Board for verification.
He cited Ambrose Alli University, Ekpoma, which received their request letter from the Board in March and responded in August, University of Benin, Benin City, which received their own on the 15th of March but responded on the 10th of July and sent in a second list on the 18th of September, University of Illorin, Illorin, which received theirs on the 21st of March but responded on the 31st of August and Delta State University, Abraka, which received their letter on the 13th of March but responded on the 14th of August as some of the offending institutions.
Mr. Ukah stated that following the cyber-attack on the Delta State Bursary and Scholarship Board website, the portal would soon be reopened to the public to commence online registrations.
The statement warned students who are not of Delta State origin not to register for the state Bursary scheme as they will be fished out and made to face the full weight of the law. .