I am the candidate that can turn PDP around and return it to power in 2019: Gbenga Daniel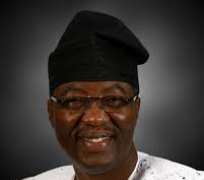 Former governor of Ogun State, Otunba Gbenga Daniel, has said that the opposition Peoples Democratic Party (PDP) needs some with his versatility and reach to make wrestle power from the incubent Al ProgressivesCongress.
PDP lost power to APC in 2015 geberal election which was the first time in Nigeria's history a sitting president was defeated in an election.
Gbenga says he has the experience to pay like for like. According to him, he has done it before at the state level when he came from opposition to beat incumbent governor of the then Action Congress of Nigeria.
Daniel described his party, which is just coming out of better internal crisis as being at its lowest ebb and needs to be repackaged for the 2019 general elections.
Chief Daniel, who is contesting the chairmanship of the party at its forthcoming national convention, said that he has the skill and capacity to reposition the party for the future electoral victory if elected as the Chairman of the party.
Daniel, who spoke during a Roundtable discussion with members of the Guild Of Corporate Online Publishers, (GOCOP) at Maryland, Ikeja, Lagos, said that he really needed to reboot PDP into power in 2019, adding that he possessed the skill, capacity and experience to return it to national prominence in 2019.
He said that the Chairmanship position of the party in a situation where it is not in control of centre, should not be made to compensate some group of people, but that it should be seen as a situation that calls for work.
According to him. An ideal National Chairman of PDP should be able to put himself out to be scrutinized, to be harassed and to be dealt with because the party is not in power at the national level.
He said that an ideal Chairman, on taking over a party that is at the lowest ebb, should be able to repackage, reprogramme, re-strategize as well as re-orientate it.
Gbenga Daniel assured party fateful that he has the qualities to achieve the lofty goals of the party, swearing that other candidates do not have such qualities.
"At the lowest level, I removed the government in power in 2003 in Ogun. I did it successfully without any bloodshed. I have also run elections successfully in various levels. Apart from Ogun state, in 2010 to 2011, I coordinated the Presidential election in the South-West.
"I also happen to be a two term governor that has networked for several years. In this process, the experience I gained from the network as a governor is very important. I have a lot of network experience which I have acquired in the course of being a governor and doing my business. When you begin to take the aggregate of all these together you will actually come to the conclusion that I have the capacity to do it. But not only that, I am a pioneer. I have always been a pioneer in my life. I am a pioneer in hostile environment.
"I left a lucrative and well paying job and came to start Kresta Laurel. When I started Kresta Laurel, I was the Secretary, the technician and the Managing Director, among others. I have been able to grow Kresta Laurel today that it is probably operating in about eight major cities in the country with over 600 workers. Come rain or shine we are still paying salaries. I think I have that capacity."
Gbenga Daniel disclosed that he will start his campaign tour across the country tomorrow , Wednesday , said: "I think that the work has to be done by the delegates is to painstakingly look at the position of the party today. As I said earlier on, if the party were to be in power at the federal government, probably any kind of chairman can do the work. But now that the party is not in power it is quite a different case."