Dariye Declares For Senate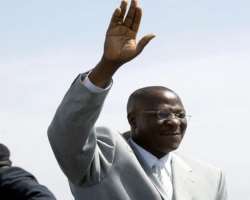 PHOTO: A FILE PHOTO TAKEN 18 OCTOBER 2004 SHOWS JOSHUA DARIYE WAVING TO HIS SUPPORTERS ON HIS WAY BACK TO OFFICE AFTER SPENDING SIX MONTHS ON SUSPENSION FOLLOWING A STATE OF EMMERGENCY IMPOSED ON HIS GOVERNMENT BY THE FG. IMAGE: GETTYIMAGES.

JOS, PLATEAU, June 04, (THEWILL) - Former governor of plateau state, Chief Joshua Dariye has declared his intention to run for the senate in 2011.
Dariye who confirmed this in an interview with THEWILL said he will be running for the Plateau central senatorial seat in the next general elections on the platform of the PDP if he wins the primaries.
The seat is currently occupied by Senator Satty Gowgim who defeated former deputy senate president Ibrahim Mantu and returned to the senate on the platform of the AC but Gogwim has since decamped to the PDP from where he also is expected to run in 2011.
Dariye said his decision to run for the senate is because he is experienced and it would place him in a vantage position to serve his people.
"We want people who are responsible and experienced, who know the yearnings and aspirations of the people, and who will be able to bring development to go to the senate not sleeping Senators. And you know I'm a man of action, I want to bring the action to bear on the five Local Government Areas of the central zone and indeed the whole of Plateau. So you know what I did to the state. I left it better than I met it indeed and I want to improve on the lot of central zone," he said.
He added that his colleague former governors who are in the senate have given a good account of themselves that further encouraged him to run.
"The advantage they have is that being former governors, they don't need further introduction. They have been known, so there is no door they will knock that will not be opened to them. Their experiences serve them in good stead, especially people like us who have survived all the arsenals on the political fields. We will knock all doors. Dariye is not a new name in politics."
Our correspondent recalled that Dariye had wanted to run for the same position in 2007 after serving as governor of Plateau for eight years but was prevented from doing so due to the many allegations of corruption against him by the EFCC.