Drogba, Rio Ferdinand's World Cup Dreams In Shambles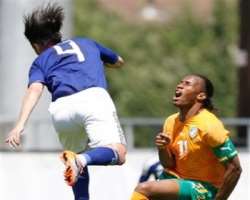 PHOTO: THE TACKLE THAT COULD END DROGBA'S WORLD CUP DREAM. Image: AP/KEYSTONE, JEAN-CHRISTOPHE BOTT.
San Francisco, June 04, (THEWILL) - Ivory Coast captain Didier Drogba could miss the World Cup after fracturing his right elbow.
The skipper left the field clutching his right arm in the 2-0 friendly win over Japan in Switzerland on Friday after a clash in the 16th minute with Brazilian-born defender Marcus Tulio Tanaka.
A hospital scan has now confirmed the injury, and teammate Kolo Toure says the striker is out of the finals.
Manchester City's Toure and teammate said he was informed of the news by Drogba himself.
"For him, he said, the World Cup is finished," said Toure.
A team spokesman responded quickly to Toure's comments, insisting that Drogba is 'definitely not out' of the World Cup at this stage.
THEWILL has also gathered that Rio Ferdinand's World Cup is over, with a knee injury leaving his dreams in tatters.
A Sky Sports news report said the England skipper picked up a knock during the latter stages of training on Friday and was immediately rushed away for medical tests as the Three Lions attempted to uncover the severity of the problem.
The report said initial fears suggested the Manchester United centre-half may have suffered ligament damage and those concerns were heightened as he left a hospital close to England's Rustenburg training base on crutches and with his knee in a brace.
The outlook appeared bleak at that point and Fabio Capello's worst fears have now been realised.
The Italian was quick to play down the problem during his press conference on Friday, but that was while he awaited news on a scan.
Since then it has been revealed that Ferdinand will play no part in this summer's South African showpiece, representing a crushing blow to the Three Lions' plans.