Madumere's Rumoured Impeachment: Who Has Bewitched Ndi-imo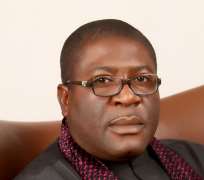 On Tuesday, the 31st of October, in the year 2017, I was caught off board having gotten into a beer parlour chilling with one of my very vibrant friend, around Ikenegbu, Owerri, Imo State before a call came into my phone.
Though, initially, i had thought of declining it since it is in my character to resist calls due to the nature of my job, but as an innocent person at that time, I summoned courage to pick the call only to discover that my long time friend residing in the capital city of Nigeria, Abuja was the one calling with an unknown number.
Having discovered the one calling through his voice, I hissed a sigh of relief and adjusted on my seat in confidence. Little did I knew reason behind the unexpected call than my friend threw bomb in form of information at me. Guess what?
Even though he was skeptical and unsure about what he called me for but only tried to find out from me if it was true that the number two citizen of Imo state, Prince Eze Madumere, MFR was under intense preasure to resign or be impeached over allegation of embezzling pension funds.
At this juncture, my mind fled off me, but considering how cordial the relationship of His Excellencies, Governor Rochas Okorocha and Prince Eze Madumere are, I needed no magician to tell me that the rumour was the figment of the imagination of some jobless hackers, whose stock in trade is to make meaning out of nothing.
Come to think of it, the Deputy Governor of Imo State, and the humble Prince, Eze Madumere represented his boss in an occasion involving creme de la creme of Igbo leaders including the Governors of Enugu, Abia, Ebonyi, Anambra and Chairman of Ohaneze Ndi-Igbo, Chief Nnia Nwodo to deliberate and draw the attention of the Federal Government to the deplorable condition of roads in the south east geo-political zone.
For the records, these propagandists had in the past rumoured the "death" of Governor Okorocha, his son Aham, President Buhari and even story of an unfounded plans by Imo Lawmakers to impeach the Speaker, Rt. Hon. Acho Ihim among others. But one thing is sacrosanct that none of these rumoured, useless and inordinate incidents were true.
These fift columnists forgot too soon that" the mouse that makes jest of a cat has already seen a hole nearby" Prince Madumere's fast rising political pedigree could have send signals to these lazy elements hence, the false rumour.
I have always understood that when the head is too big, it finds it difficult to dodge blows, therefore since none of these political burdens masquerading under the guise of social informants and opinion destroyers, the sensible Imolites who are not yet bewitched by the level of falsehoods oozing should be emulated and followed.
To me, I am aware that Imo people are so learned and informed that none of them can stoop too low and cheaply to believe falsehoods from the same liers who had in the past struggled to deceive Ndi-Imo but met stiff resistance.
Now the general public can dispel this watery story of rumoured current plight of the number two citizen of Imo state after going through the official disclaimer from the office of the Deputy Governor, and signed by Mr. Uche Onwuchekwa, SSA Media and Publicity.
"The rumour making the rounds especially on social media over a ludicrous impeachment plot against the Deputy Governor of Imo State, Prince Ezeakonobi Madumere, has come to the knowledge of the Office of the Deputy Governor of Imo State.
Ordinarily, we would not have bothered joining issues on this lies from the pit of hell concocted by faceless unscrupulous elements, but for the worried unsuspecting Imolites, members of Rescue Mission Administration and the teeming fans of Prince Ezeakonobi Madumere, hence the resolve to put the records straight.
We wish to inform the general public such that rumour is unfounded and could only exist in the figment of the imagination of political liliputs who are worried over the frightening vaulting profile of Prince Ezeakonobi Madumere laced with incorruptibility, competence, humility, loyalty and simplicity.
Prince Madumere's strength of character and result oriented tradition has remained unimpeachable as he has never failed in delivering pragmatically on State assignments assigned to him effectively and efficiently. Little wonder, during one of the periodic media chats, His Excellency, Owelle Rochas Okorocha, the Governor of Imo State described Madumere as a bundle of Dedication. In a another forum where Governor Okorocha was addressing Traditional Rulers over crisis in creation of new autonomous communities and disagreement over who to appoint to manage and resolve the differences among the disagreeing sections, when Imo Deputy Governor's name was mentioned, it was an unanimous endorsement by Ndi Eze and Governor Okorocha knowing who his Deputy is described him as Mr. Incorruptible.
From the foregoing, it follows that Prince Eze Madumere is not only credible but has refused to be tainted with any dent of corruption."
.......................
Esogibe Ikenna is an opinion moulder and social crusader