Imo Deputy Governor:Madumere, Burden Of Integrity And The Fifth Columnists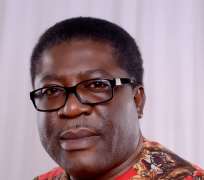 The rumour making the rounds especially on social media over a ludicrous impeachment plot against the Deputy Governor of Imo State, Prince Ezeakonobi Madumere, has come to the knowledge of the Office of the Deputy Governor of Imo State.
Ordinarily, we would not have bothered joining issues on this lies from the pit of hell concocted by faceless unscrupulous elements, but for the worried unsuspecting Imolites, members of Rescue Mission Administration and the teeming fans of Prince Ezeakonobi Madumere, hence the resolve to put the records straight.
We wish to inform the general public that such rumour is unfounded and could only exist in the figment of the imagination of political liliputs who are worried over the frightening vaulting profile of Prince Ezeakonobi Madumere laced with incorruptibility, competence, humility, loyalty and simplicity.
Prince Madumere's strength of character and result oriented tradition has remained unimpeachable as he has never failed in delivering pragmatically on State assignments assigned to him effectively and efficiently. Little wonder, during one of the periodic media chats, His Excellency, Owelle Rochas Okorocha, the Governor of Imo State described Madumere as a bundle of Dedication. In another forum where Governor Okorocha was addressing Traditional Rulers over crisis in creation of new autonomous communities and disagreement over who to appoint to manage and resolve the differences among the disagreeing sections, when Imo Deputy Governor's name was mentioned, it was an unanimous endorsement by Ndi Eze and Governor Okorocha knowing who his Deputy is, described him as Mr. Incorruptible.
From the foregoing, it follows that Prince Eze Madumere is not only credible but has refused to be tainted with any dent of corruption.
On this noted, we therefore call on the good people of Imo State and friends of Madumere world wide to ignore the ignoble act of blackmail and cowardice emanating from faceless quarters. We categorically state that there is no substance in the said rumour projected to tarnish the hard earned spotless image. We also affirm that the relationship between Governor Okorocha and his amiable Deputy Prince Ezeakonobi Madumere is even closer and stronger than ever before.
The Deputy Governor of Imo State will be glad to be confronted openly rather than hide behind a defeatist antic disposition with a view to deceiving unsuspecting public.
Borrowing the words of Ziad Abdelnour - "Always remember... Rumors are carried by haters, spread by fools, and accepted by idiots."
Uche Onwuchekwa
Special Assistant to the Deputy Governor on Media