Police parades UNIOSUN 300L Student caught with gun, cutlass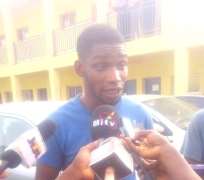 A 300 level student of Osun State University, UNIOSUN, Amao Adekunle, has been paraded by the Osun State police Command over unlawful possession of a gun and a cutlass.
Adekunle was paraded along side one Adeshina Olarewaju. The duo were said to have also been caught with some money in Naira and Dollar currency.
Adekunle however denied it knowing anything about the gun and cutlass they were caught with. He explained he only followed Olarewaju to the hotel where they were arrested.
Crying profusely, Adekunle told our correspondent that, "I don't know anything about the gun, cutlass and even money. Olarewaju is just area brother to me. Since my mum died in 2015, I have been in school. On that day, this brother called me and asked me to follow him to his in-law's house.
"We were on our way when someone called him and asked him to come to an hotel, it was at that place we got arrested. Please help me, my career is ruined, I am innocent of this crime." He added in an emotional laden voice.
Asked if Adekunle is innocent as he claimed, Olarewaju said, "Yes, he doesn't know anything about these things and I have told the police, he only followed me to that hotel. I own the gun, it has been with me since 2014 and I use it to rob people."
Another group paraded was a ten man gang of armed robbers led by Kehinde Ogunyinka who specialized in dispossessing people of their vehicles.
While parading the suspects, Commissioner of Police, Olafimihan Adeoye, said five vehicles were recovered from the gang.
He explained that the gang would visit their victims at their residencies and cart away their vehicles. Adeoye said a particular vehicle was repainted and was used for commercial purposes by the gang leader, Ogunyinka.
In a chat with our Correspondent, Ogunyinka however disclosed how he regret all his actions. He also urged youths to shun crime.