29-year old Carpenter apprentice rapes woman, 85 in Osun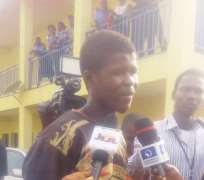 A 29-year old carpenter apprentice, Kehinde Ariyo, was on Monday, paraded by the Osun State Police Command for allegedly raping an 85-year old woman.
Ariyo was said to have raped the octogenarian twice, during which she passed out and only woke up after some hours.
According to the suspect, "I was coming from a party on that day, it was around 11 pm, I was drunk and seeing my condition, mama Kenny as she was called, asked me to spend the night in her house.
"She brought a three sitter chair for me in the the passage of house and went to her own room. After some time, I knocked on the door of her room, I just wanted to explain some things to her and she opened the door but i can't remember what happened afterwards.
"It was in the morning when her son brought some police officers to arrest me that I was told I raped the old lady."
Asked if he really committed the crime, Kenny said, "I still can't remember anything but it seems I really raped the woman as they say."
Commenting on Ariyo's crime, the Commissioner of Police, Olafimihan Adeoye decried the height of wickedness being displayed in the society now.
He however implored members of the public to continue cooperating and supporting the force in order to achieve a crime free state of Osun.
Others paraded include two different gangs involved in planting and selling Cannabis Sativa known as Indian hemp.
One of the gangs, led by Bode Abiodun was caught with 14 sacks of harvested Cannabis loaded in a car and another group headed by a 70-year old Ghanaian, Samuel Agjei was caught with about five sacks of harvested Cannabis.
In a chat with The Nigerian Voice, Agjei explained what led him to the act. His words, "I have been in Nigeria for almost 20 years now. Earlier this year, a man came to me that he needed someone to work with him on the farm.
"Because I am looking for money to take me back home, I signed a year deal with him and later got to know I would be working on a Cannabis farm. We eventually got arrested and that is why I am here."
One of his gang member who is also a Ghanaian and a mobile tailor, Samuel Sule, jokingly shared his own part of the story.
"I am a mobile tailor and was invited by my brother from the same Country here (pointing to Agjei) to work on the Cannabis farm for five days. Just five days and this happened. See me see wahala o, see what just five days have caused now." Sule, who seems to be having fun and not bothered by the offense he was charged with, jokingly told our Correspondent.