Dr. Ramatu Tijani Aliyu Visits Mother Of Triplets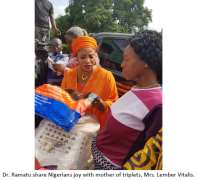 It is paramount, effects of social media are very much alive in Nigeria, with folks following hundreds of trends of events around the globe. Because of these, folks identify common interest of things; of the highest priority. This how is HOPe Africa a United Nations and United States registered charity picked the triplet information and suggested accordingly. As the nation's women leader, to make haste, address this concern upon confirmation of the recently born triplets' story in Makurdi that is widely circulated on social.
Amid mixed feelings, conflict of interest, misrepresentations, treats from various quarters, Dr. Ramatu Tijani Aliyu, women leader of incumbent political party, with overwhelming followership, took the bull by the horn. In convoy, drove to Benue State to discharge one of her call to service were: Dr. Mrs. Eunice Ortom, wife of Benue State Governor, Hajiya Zainab Ahmed, Former Secretary to Nasarawa State Government, Hon. Hajiya Hajara - Special Adviser to Nasarawa State Government on Gender and Princess Adoga Benni, including APC State Women Leaders of Nasarawa States, Niger and Kogi, and Mrs. Dooshima Aneh, Senior Special Assistant to Executive Chairman of Abuja Municipal Area Council on Inter-Party Affairs. She was enjoined at a short notice to pay tribute to the three wise babies, the new Nigerian citizens. Gifts were packed in the convoy, more gifts were already at triplets' residence, waiting for official delivery to Mrs. Vitalis.
Undisclosed amount of money and gifts were handed to the triplets' mother. The items included among others, food
and cooking condiments, baby's food, provisions, baby/mother clothing's, toiletries, assorted baby items among
others. In her message of encouragement, she maintained that, the task in raising triplets is handful another why
Dr. Ramatu came to with assistance and emphasized it's a blessing at to burden. She thanked Mr. Ukan Kurugh for
broadcasting the incidence.

You will recollect Mrs. Vitalis, victim of recent flood internally displaced person (IDP) gave birth to three bouncing
babies in the outskirts of Makurdi. No medical personnel and attention at the time of delivery in a dilapidated
environment, she cried out for assistance through social media. During gifts presentation Dr. Ramatu offered words
of advice and encouragements, and reiterated that Nigerian women are with her in prayers and she should maintain
consistently communication her to monitor mother and baby development. Dr. Ramatu Tijani Aliyu concluded the
trip with a brief visit to Benue State Government.