Symposium On Speeding Criminal Litigation In Nigeria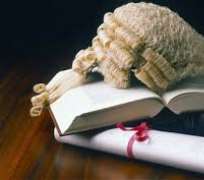 The ground is now set for the historic symposium on speeding up criminal litigation in Nigeria scheduled to hold on Wednesday 1 November 2017 at Sheraton Hotel Abuja starting at 10.00 AM.
The symposium is predicated on the undue delays often associated with Nigerian criminal justice system and it is the idea that structural reform is necessary to bring about rapid criminal litigation. There is no question about the fact that any fundamental shift towards expeditious adjudication of criminal cases will help to ensure a fair system of justice in a manner that inspires public confidence.
The ultimate objective of the project is to ensure that through the introduction of a new case management system, our courts will be better able to dispose of criminal cases expeditiously and fairly. We believe that it is in the best interest of everyone – the accused, the victims of crime, and every of our communities that confidence is built into our criminal justice system and that there is certainty about the process of adjudication.
It is being organised by the Incorporated Trustees of the Initiative for Socio-Cultural Fairness and Equity in collaboration with the CONFERENCE OF WEST ATTORNEYS' GENERAL (CWAG) AFRICAN ALLIANCE PARTNERSHIP. CWAG is a United States-based bipartisan group comprised of the chief legal officers of fifteen western states and three pacific territories.
His Excellency Professor Yemi Osinbajo SAN – Vice President Federal Republic of Nigeria is the special guest of honour while Abubakar Malami SAN – Honourable Attorney General of the Federation and Minister of Justice is the keynote speaker. The chair of the occasion is Justice Adolphus Godwin Karibi-Whyte CFR – retired Justice of Supreme Court and Former Judge of the International Criminal Tribunal for the Former Yugoslavia in the The Hague The Netherlands. The event will feature notable speakers including Rotimi Jacob SAN, Chief Anthony Idigbe SAN, David Luke Fadem former prosecutor international criminal court. Chief Judges of States and Attorneys' General of various states of the federation will be in attendance.
Nigeria's criminal justice system needs to connect with the public it serves and members of the public should get a sense that nobody is above the law. When our legal system is made to hold everyone accountable, there is a realistic prospect that it will change the way we think about our society, our economy, and our democracy.
Barrister Ignatius OzoiloBA (Hons) LL.B (Hons) Pg. Dip. BL LLM
Executive Secretary
Tel: 08174976459