Actor, Antar Laniyan Wins Performing Arts Legend Awards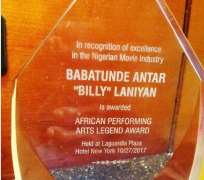 Legendary Nollywood actor, Antar Laniyan, has been a father to all and he is being loved and adored by many especially with his gentle way of motivating others to grow.
The actor has for a while now chosen to be behind the scene as he gives others the space to grow and that has really spoken well of him.
His works have not gone unnoticed as he was recently honoured with the award of Performing Arts Legend Awards, at an event which was held at Laguardia plaza hotel, New York.