FBN's PAT up 67.=8 per cent to N45billion in Q3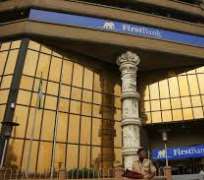 Ani-Mumuney,  Opadokun and  Kosoko appointed non-Executive Directors of FBN Insurance Brokers
FBN Holdings has posted Profit after tax of  N 45.8 billion  f or the nine months ended September 30, 2017.
Though the profit figure is  7.8 per cent her than the  N 42.5 billion recorded in the corresponding period of 2016, it is still considered modest by industry standard especially against the background of the bank being top grosser of earnings.
 According to a report by the bank, it made a gross earnings is   N 439.2 billion, up 5.2 per cent as against  N 417.4 billion in 2016 while Net-interest income is   N 254.3 billion, up 25.3% y-o-y (Sept 2016:  N 202.9 billion).
  The earrning was achieved on operating expenses of N 175.3 billion, up 8.4% y-o-y (Sept 2016:  N 161.8 billion while total assets stood at   N 4.9  trillion, up 2.7% year-to-date (y-t-d) (Dec 2016:  N 4.7  trillion) 
   However, Customer deposits is   N 3.0 trillion, down 5.3% y-t-d (Dec 2016:  N 3.1  trillion) while Customer loans and advances (net) is   N 2.0 trillion, down 1.9% y-t-d (Dec 2016:  N 2.1  trillion)
  UK Eke,  MFR , the Group Managing Director, of the bank, has this to say of the result,  "FBNHoldings has again demonstrated its resilience in revenue generation with a 5.2% y-o-y growth in gross earnings to  N 439.2 billion following a y-o-y increase of 25.2% in net interest income to  N 254.3 billion. The Group is progressing in building the right structures for sustainable growth through an improved credit culture and risk management; increased technologically driven operational efficiencies; and the introduction of revenue enhancing platforms.
  "The Insurance group sustained its strong performance and we expect to see further growth from the retail, corporate and annuity businesses. Similarly, we continue to see strong growth trajectory in the Merchant Banking and Asset Management group. These businesses complement our commercial banking business in our aspiration to becoming the leading financial services institution in Middle Africa.
 "We remain confident that the initiatives being implemented across our subsidiaries will further strengthen our business and ultimately reposition the Group for sustainable growth"
   Leadership changes across the Group:
FBNHoldings:
Seye Kosoko appointed as Company Secretary, FBN Holdings Plc, subject to regulatory approval, as Tijjani Borodo retires
Commercial Banking Group:
Tosin Adewuyi, appointed Executive Director, Business Development, FBNBank UK
Insurance Group:
Babatunde Mimiko appointed, Executive Director, FBNGeneral Insurance
Ekpe Ukpabio appointed, Executive Director, FBN Insurance Ltd
Folake Ani-Mumuney, Bode Opadokun and Seye Kosoko, all appointed Non-Executive Directors of FBN Insurance Brokers Ltd, subject to regulatory approval
FirstBank acquires the balance of 25% equity holdings in FBNBank DRC Ltd, making it a wholly owned subsidiary
FirstBank mobile platform achieves the fastest growing mobile banking penetration across Africa, becoming the highest card transacting bank on the Interswitch payment platform [1]
FirstBank card issuance reaches 10 million cards, making FirstBank the first in the Nigerian Banking industry and the second in Africa to achieve this milestone6
FBN Merchant Bank acquires FBN Capital Asset Management and FBN Securities from FBN Capital Limited