Meet Heather Lind, actress who is accusing accusing President George H.W.Bush of sexual assault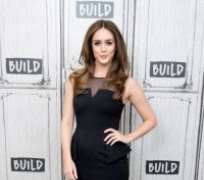 Heather Lind, the actress who accused President George H.W. Bush of sexually assaulting her during a photo op four years ago — prompting a sort-of apology from Bush — doesn't have the name recognition of a Gwyneth Paltrow or Lupita Nyong'o or some of the other women who've taken their experiences with sexual misconduct public. But Lind has been racking up acting credits since 2011, when she did an episode of the CBS drama Blue Bloods .
Here's a look at the 34-year-old actress:
Where you might know her from
Fans of AMC's Turn: Washington's Spies will recognize Lind as Anna Strong, whom she played for all four seasons of the show, which ended with its August finale. She co-starred with Al Pacino in The Merchant of Venice on Broadway for several months beginning in November 2010. Her most notable role was one of her first: a maid on HBO's Boardwalk Empire in episodes that aired in 2011 and 2012. As part of the cast, she took home a Screen Actors Guild Award for Best Ensemble in 2012. She appeared in Mistress America with Greta Gerwig in 2015 and as the wife that Jake Gyllenhaal loses in a car crash in the 2016 dramedy Demolition .
This year, she also starred in the drama Fireworkers , which was written and directed by another Lind.
A bit about her background
That other Lind is Christina Bennett Lind, who happens to be Heather's identical twin sister. Christina is an actress too — she also stars in Fireworkers — and her credits include All My Children, House of Cards, and Z: The Beginning of Everything , where she portrayed Tallulah Bankhead.
The Lind sisters were born in 1983 in Upland, Pa., and attended Guilderland High School in New York. Heather went on to graduate from Fordham University, where she majored in theater performance, and from New York University, where she received an MFA in acting.
Why she was meeting with President Bush
George H.W. Bush and wife Barbara pose with Lind and the cast of AMC's Turn in 2014 in Houston. (Photo: Aaron M. Sprecher /Invision for AMC)
On the historical drama Turn: Washington's Spies, Lind's Anna Strong is the only woman on a team of spies helping George Washington during the Revolutionary War. In the now-deleted Instagram post in which she accused Bush, Lind wrote that she was promoting her show when she encountered the former president. It read, in part: "When I got the chance to meet George H. W. Bush four years ago to promote a historical television show I was working on, he sexually assaulted me while I was posing for a similar photo. He didn't shake my hand. He touched me from behind from his wheelchair with his wife Barbara Bush by his side. He told me a dirty joke. And then, all the while being photographed, touched me again."
She also noted in a 2016 interview that playing Strong had affected her outlook in a way that, quite possibly, could have led her to speak out.
"I think she gives me a real sense of bravery and courage," she told FanSided when asked about her favorite part of her character. "I feel I can say and do almost anything and stand behind what I believe in. It's a really cool feeling to experience that and see how it comes up in ways in my real life."