Aregbesola inaugurates State-of-the-art School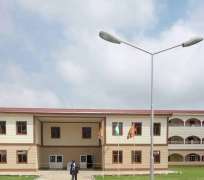 The Governor of Osun State, Ogbeni Rauf Aregbesola, has commissioned another ultramodern school, Ilesa Government High School, Ilesa, bringing the number of high schools commissioned in the state to five.
This is even as the governor also launched the Citizens Identification initiative Card tagged "Kaadi Omoluabi"
According to him, the newly built ultra-modern school was part of his government's resolve to bring quality education to residents of the state.
Aregbesola said his administration has positively impacted in the lives of the people through the provision of functional and quality education across board.
He hinted that Fakunle-Unity School, Osogbo and Oduduwa high school, Ile-Ife, have been completed and would soon be commissioned.
Also, the governor promised that Ila-Orangun, Iwo, Ikirun and Ikire high schools that are under construction, would be completed before the end of the year.
He stated that his administration has built 25 middle schools and 20 elementary schools in the state.
"The school we are commissioning today is state-of-the-art. Many people when they see the picture, because it is so good, they argue it is computer generated graphics in 3D. Actually, it is a 3,000 capacity three-in-one school. Each school has its principal with an overall senior principal.
"The school cost N1.3 billion which includes the cost of furnishing, landscape and electronic boards.
"I am happy and fulfilled that we have public schools that can compete with the best in the world and indeed, our new schools are the ones to beat around here.
"All these are in fulfilment of our promise to provide functional basic education. This stems from our conviction that every child is owed basic education. It is a fundamental and inalienable right of every child. We have gone to this length and committed such huge amount on education because we are preparing for the future.
"These 11 high schools, by our projection, will each graduate 11,000 students every year.. In 10 years, they would have turned out 110,000 first rate students. In 50 years, that would be 550,000 world beaters, occupying strategic positions nationally and globally. This is our vision.
"As a government, we have played our own part very well and we will do more if the need should arise. It is now left for parents and teachers to do their own part."He added.