Okowa's CPS Receives Knock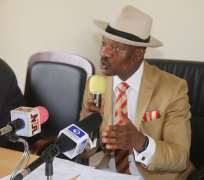 For allegedly usurping the functions of the Delta State Finance Commissioner, Olorogun David Edevbie, the Chief Press Secretary (CPS) to the state governor, Charles Ehiedu Aniagwu, has been given a knock to desist forthwith.
The Finance Commissioner Monday gave a matching order to journalists to contact himself and his counterpart in the Ministry of Economic Planning, Kingsley Emu, to clarify issues of finances from them while briefing the press on the breakdown of the 2018 budget in government house, Asaba.
Aniagwu, who has allegedly competed with the Commissioner of Information, Patrick Ukah, on whose duty to brief the press on the daily activities of Okowa was given a final knockout, from further grap on what is not in his jurisdiction.
According to Edevbie, "When it comes to the issues of financial matters, the people who are authorized to talk on behalf of government is myself and the Commissioner for Economic Planning".
He stressed that they should be the first contacts of reporters when in doubt of any issue that needs clarification, "we should be the first people that you are to contact if you are looking for anything".