… "The Office Of The Commissioner Of Education Is A Field Work" --- Ogbuago
… "She really doesn't know what she is talking about if she said that we don't go around" --- Ebie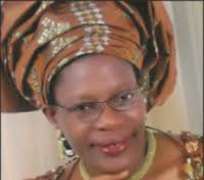 The All Progressives Congress (APC) and the ruling Peoples Democratic Party (PDP), in Delta State are in a war path over the alleged deterioration in the primary and secondary education system in the state.
A former Commissioner of Basic and Secondary Education, Dr Mrs Veronica Ogbuago, lamented that the sector has been neglected which has led to its current decay.
Ogbuago gave the hint recently in an exclusive interview with our correspondent at the residence of Chief Hyacinth Enuha in Ogwashi-Uku, Aniocha South council area of the state.
"Education was what it was before I became a commissioner, if they have kept to the pace of which I and my directors and all went, it could have been far better. Today it is something else".
The APC faithful, though commended the present Commissioner, Mr Chiedu Ebie, she however pointed out that there was decay in the system, "Although, the Commissioner is trying but it is more than that, the ministry of education, the office of the commissioner of education is a field work is not where you sit in the office and the decay there is something else because we see these things".
"Exam malpractice which we fought standstill, took a different dimension even up to the security guards in schools, gatemen, they are all involved in it right now and children go late to school".
"It is an enomouse task and I don't see only the Commissiuoner for education achieving it. Parents, good people of Delta state will join hands together because it is a work that only one person in the ministry of education can put together.
"It is a pity that before I left the office, I wrote up to forty goals that will reposition education in the state, unfortunately people who came just put that aside. It is a lot of work to be done and God will help them if they really have the interest of education in the state to move it forward".
In his reaction Thursday during a POST EXCO Budget briefing in Government House, the incumbent Basic and Secondary Education Commissioner, Ebie said, "when I resumed as the Commissioner Basic and Secondary Education, one of the things I did was to go round and meet with people who have occupied this office. So, in other words my predecessors, to get from them sort of their own experiences and I visited her in Warri".
He said he was more mobile than Ogbuago, "But more importantly, I am sure that I am more mobile than her. I don't think she would be the best person to say that. She really doesn't know what she is talking about if she said that we don't go around".
On the allegation of examination malpractices Ebie said, "and for you information on Saturday at the Warri marking centre for the basic three resit examination, I spent three hours there, sitting with them in the marking centre supervising what they are doing. I don't think she did it during her time".
Meanwhile, instead of Ebie to respond to a question put across to him by a reporter on the sorry state of Okwe secondary school which is currently been ravaged by flood, the Commissioner attacked the journalist: "Regarding Okwe secondary school, I am sure you are either from that community or your wife teaches there", before he responded to the question.
Also, another question of allegation leveled against the state government and some staff of the Ministry for registration of over 2, 000 unqualified private secondary schools in the state was tactically left unanswered by the Commissioner before leaving the venue of the event even as the question was also trivialized along political party's divide by the Finance Commissioner, Edebvie who posited that Ogbuago, made the allegation base on her present political affiliation.