Delta Government Owes Contractors N100 Billion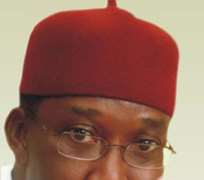 Delta state government is currently indebted to contractors executing projects in the state to the tune of a N100 billion, the Commissioner for Finance, Olorogun David Edevbie has said.
The Finance Commissioner stated Monday during a POST EXCO Budget briefing at the Press Centre, Government House, Asaba.
According to Edevbie, who made the revelation while giving the breakdown of this year's proposed budget of N298 billion presented by governor Ifeanyi Okowa to the Delta State House of Assembly (DTHA), last week Thursday, noted that the state government is unsettled with the huge debt, saying some of the contractors are hiding under the cover of not payment to abandon their works.
While expressing sadness over the pressure from the contractors particularly those owe lesser than N5 billion, the Finance Commissioner stated that "it was not going to be possible for the state to offset the debt all at once within the next one year".
"I couldn't give you a specific figure right now, it is something in the line of about N100 billion. If you recall when I did my briefing, I think it was in December last year, it was about that figure. We have paid down some of it but of course, we now brought in new contractors that we are oweing.
"I must admit, I am not very happy with the process we have made with respect to dealing with these contractors particularly the smaller ones that we owe N1 million or N2 million. I am not happy but at the last budget session, His Excellency made a specific provision like N500 million to deal with the smaller ones under N5 million, that is in budget and there is other provisions for other contractors that are owed".
"I have reaised the issue of defaulting contractors in the Council that it is not enough to just determine a contract for non-performance and then re-award to somebody else and that is the end of the matter. I believe if we have to determine a contract for non-performance, that contractor should be pursued in court for non-performance, he/she should be blacklisted and not be considred for another contract for the forseeable future", said the commissioner who frowns at the attitude of not punishing erring contractors in the state.
He however attributed it to godfatherism in the political arene which according to him is a bad omen and a setback in the system.
Hear him, "But you know, we are in Delta, everybody in Delta have a brother or sister, mother or something in government and it becomes very difficult to take certain actions against certain people without it been misconstrue. But I agree with you, I think if someone is a defaulting contractor and the fault is not as a result of government, we should be doing more in terms of punishing such a contractor, that is my own personal opinion, am not saying is government opinion".
The Commissioner also revealed that there are 2, 203 political appointees who are currently receiving N382 million monthly, while the salaries of 45, 450 civil servants gulps N4.9 billion.
On how much the state has received so far from Federal Allocation Account Committee (FAAC), the Commissioner disclosed that, "We have received N83.6 billion as September 2017".
Continuing: Edevbie explained that the state Internally Generated Revenue (IGR), in "January, was put at N6.2 billion, February N4.2 billion, March 4.2 billion, April, N4billion, May N3billion, June, N3.2 billion, July N3.8 billion, August N3.9 billion and N5.2 billion in September 2017".
On the Asaba Township Stadium, the Commissioner said, "they have re-awarded the contract for N1.9 billion which includes about N400 million to pay off the previous contractor on the site. The reason the N400 million has not been paid, it is because it involves something called an ISPO and security and before we enter an ISPO, we must inform the House of the Assembly that has been done and I believe the House has issued a resolution in support of it".