Prince Madumere In The Eyes Of Imolites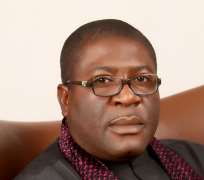 As it is crystal clear that anyhow one dresses is how he or she will be addressed. This aphorism is very symbolic not only in theory but in practical terms when it is related to particular individuals.
However, people are not judged by their wealth, facial appearance, connection or position but the way and manner they comport themselves especially, at the heat of any provocation.
In this context, one must be glaringly different from others, an individual whose morals are symbolic of a saint with compassion and administrative know-how whose benefits to the society is incomparable. This person's unparalleled sense of humour does not deter his bold and daring qualities like the Arm Forces.
A vivacious man with vast administrative experience, Humble Prince Ezeakonobi Madumere, popularly called 'the Gentle Giant' is a type of human genus every Imolites regard as well outfitted.
No wonder William Blake says in his proverbs of Hell that "You never know what enough is, until you know what more than enough is", Prince Madumere, the Deputy Governor of Imo State is indeed a replica of the quote.
A gregarious and competent servant-leader, it is noteworthy that little did Imo people know this humble Prince than God uncovered the leadership qualities inherent in him and thereafter elevates him from one position to the other.
As a dependable leader, he has taken far-reaching decisions and made remarkable achievements, which has continued to marvel individuals either close or far from him hence, he is seen as the envy of all. A very disciplined and conscientious man, so courageous in pursuing whatever cause he believes in with vigor and panache.
A Deputy Governor with immense humility, modesty, swag, charisma, and much energy who has remained fervent in carving niche for the less privileged, a man with high level of opposition against any form of graft and cheating; no wonder his present and past records remain unsoiled despite human orchestrated propaganda that is neither here nor there.
Notably, one quality that has surprised some people assessing him from a distance is his sincerity, elegance and gentility. A man that talks less but with much wisdom and action pact. He has contributed immeasurably to the bid to demystify governance in Imo State and beyond. He goes about freely unlike other Deputy Governors and sometimes, seen on the queue at the airport, rallies, and other public places taking his turn to be attended to without minding his status. What a due process servant-leader!
Severally, while on the road, he would rather instruct his driver(s) to park by the side to allow furious and reckless drivers to pass before he continues his patriotic and gentlemanly journey.
In capacity building, he has made private and official contacts to aid youths and women empowerment through skill acquisition, scholarships and other donations devoid of discrimination in line with the vision of the rescue mission administration of Governor Rochas Okorocha.
The bridge builder as he is fondly called, Prince Madumere has given immense and dogged support to the Commander of Free Education in Imo State, His Excellency, Owelle Rochas Okorocha in ensuring the completion of all projects embarked upon by his administration. One thing every aspiring leader should be happy to gain in life is to acquire the same lenience and civilized quality of this man in dealing with issues conscientiously especially, when greedy expired politicians envious of his rising profile attack him through medium with a view to scoring cheap political relevance.
Prince Madumere is the voice of the voiceless, gift to mankind and exceptional human being worthy of adoring. His unquantifiable track records in public service give ample concern to individuals bedeviled with self aggrandizements. He is an unquantifiable leader.
In fact, if humility is a crime, Prince Madumere would have been in jail by now!!!
Disclaimer:

"The views/contents expressed in this article are the sole responsibility of

Esogibe Ikenna

and do not necessarily reflect those of The Nigerian Voice. The Nigerian Voice will not be responsible or liable for any inaccurate or incorrect statements contained in this article."