Demand for full salary: Osun Govt. Implores Labour Unions to be a little more patient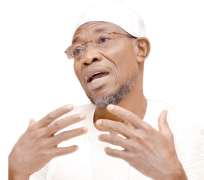 The Osun State Government under the leadership of Ogbeni Rauf Aregbesola, has appealed to Labour Unions to be understanding and exercise patience over their demand for full salary.
"The Osun Government has never been insensitive to workers welfare" Commissioner for Information and Strategy, Mr Adelani Baderinwa said in A release made available to journalists.
Baderinwa said the state is still facing it's financial problems and thereby urged the labour Unions to be a little more patient.
According to the release, "We reckon with the recent letter issued by the labour unions in the State of Osun in which they demanded for full payment of salary and other emoluments. We see it as legitimate demands and commitment to the welfare of the workers in general.
"The government appeals to their patients and understanding as usual. The financial problem afflicting the state is yet to go away.
"The truth of the matter is that, the State of Osun has enjoyed industrial harmony based on mutual understanding between government and the labour to the extent that welfare of all citizens and workers in particular have always been the fulcrum of all decisions and policies made by Aregbesola's administration since it came on board about seven years ago.
"We stress that Ogbeni Aregbesola never acted against the interest of the workers except when things went beyond him; and even then, he reached out to the workers leaders and ensure that the best within the limit of what is available to the state is done for the sake of the workers. The story of modulated salary payment easily comes to mind as reference points.
"The administration of Ogbeni Rauf Aregbesola is very responsive to the plight and welfare of the workers. The governor, naturally, does not need to be told or put pressure on before doing the right thing for the benefit of the workers.
"Government appreciates the steadfastness, the sacrifice and level of understanding of the workers, while promising that no stone will be left unturned in making sure that their welfare is well taken care of whether in or out of service."