Osun 2018: K-Rad Takes Consultation to UK, US, Canada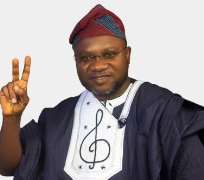 As Nigerians in the Diaspora contribute a lot to the economy through their earnings abroad, they are also seeking that their role be recognised during electioneering process.
Paying cognisance to the aforementioned, legal luminary and leading Osun state governorship hopeful under All Progressive Congress (APC) 'Kunle Rasheed Adegoke (K-RAD) will be meeting on invitatiin with Osun residents in the Diaspora.
The meeting affords him the opportunity to intimate Osun state indigenes abroad about his governorship ambition and to seek their input in the recovery plan of the state of Osun.
In a statement released by K-RAD's media team in Osogbo, "meeting with Osun indigenes living abroad is expedient not only for us to have a common solid front in our aspiration for Osun state, but also to answer to our name " Tiwa n Tiwa" by bringing all ideas together, with the strong hope of leading an all-inclusive government, come 2018."
The meeting expected to first take place in the United Kingdom will afford K-RAD the desired opportunity to share his dream with Osun residents in the diaspora, giving the hosts the required space also to say their mind on state of Osun and proffer ways forward.
The train according to the statement will also berth in the United States of America and later Canada and Netherlands.