Otunba Gani Adams' new appointment as the Aare Ona kakanfo designateof Yorubaland is well deserved - PYL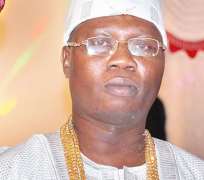 The Progressive youth league Lagos branch has joined millions of Nigerians most especially the youths in congratulating the new generalissimo of Yoruba land.
The Alaafin of Oyo, Oba Lamidi Adeyemi who made the historic announcement on his 79th birthday celebration, memorable in the sense that his appointment is coming at a period when youths are clamoring for more leadership opportunities. Otunba Gani Adams is a worth youth to have attained the position.
The Public Relation Officer of Progressive Youth League Lagos Chapter, Mr. Thanni Kamil Opeyemi, in a statement issued in Lagos commended the new Aare Ona kakanfo.
Thanni stated that PYL is ready to support Otunba Gani Adams in all ramification to ensure a successful tenure in the service of all Yoruba race as the Are Ona Kakanfo, he however, called on Otunba Gani Adams to maintain the excellent antecedence that, his royal majesty saw in him, which has earned him this prestigious appointment and henceforth, his political interest should not in anyway affect any of his role as the new Aare Ona Kakanfo designate of Yorubaland.
The Statement reads "The Progressive Youth League Lagos State Chapter, under the active leadership of Comrade Adeleke Abdulakeem, sincerely facilitate and congratulate the vibrant, young, dogged and exceptionally progressive National Coordinator of Odua People Congress Otunba Gani Adams on his emergence as the new Are Ona Kakanfo.
"We are proud to have a progressive youth as the new Are Ona kakanfo, from his antecedents with a brief speech he gave after the official announcement of his latest appointment; we could attest that he is a youth with adequate wisdom needed to run the affair of this highly significant post.
"Iku Baba Yeye, Alase ikeji Orisa Oba Lamidi Olayiwola Adeyemi III, we appreciate this decision you have taken which has no doubt broken 19years hiatus, we also commend you on this decisive and crucial decision, and we believe this giant stride will go a long way in protecting the interest of the Yoruba land.
"There is no doubt that emergence of Otunba Gani Adams as the Are Ona kakanfo designate of Yorubaland is well deserved" he concluded.
It is worthy of note that Otunba Otunba Gani Adams age 47 has 52 chieftaincy titles to his name.
Otunba Gani Adams is holding the 15th position on the list, after Late Moshood Kashimawo Abiola, who died in incarceration in 1998 after the annulment of June 12, 1993, election, which he unarguably won.