Group Commends Obiano for Speaking out Against Godfather's Monetary Demands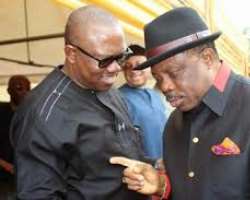 The Renascent Anambra Transparency Democratic League (RATDL), a socio-political transparency advocacy group based in Awka, Anambra State has commended Governor Willie Obiano of Anambra State for finally speaking out to confirm the demands of his estranged godfather's monetary demands of over N7bn. The governor spoke at the Onitsha North All Progressives Grand Alliance (APGA) Rally Wednesday against the backdrop of the ranging controversy and calls on him to speak and help douse speculations about the real reasons for disagreement between him and former governor Peter Obi.
Obi had been on record castigating Obiano for alleged "non –performance" but Obiano for the first time told party fateful that he refused to pay for unsubstantiated claims of money allegedly spent on his 2013 election campaigns. According to Obiano: "Obi asked me to give him N7b but I refused because do not owe him and that's the problem between me and Peter Obi."
Reacting to the development, the Transparency Group in a statement signed by its National Coordinator, Comrade Chuma Nweke, stated that by finally addressing the issue, the governor has confirmed what they had heard from third parties and hushed discussions.
Said the Group:
We commend the Governor for displaying manifest courage and statesmanship in the course of the disagreement and also ensuring the promotion of transparency in governance. Everyone knows that we have fought against imposition by godfathers since the days of Ngige with Obi as beneficiary. We cannot understand why he is bent on taking our state backwards after all the goodwill he enjoyed. We call on all men and women of goodwill to stand against such reoccurrence in Anambra."
RADTL also called on the various political gladiators in Anambra to eschew bitterness and avoid campaign of mudslinging and name calling so as to ensure peaceful polls in November 2017.