Anambra: Peter's Inglorious Dance into Oblivion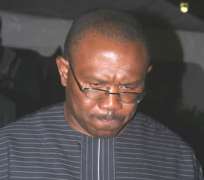 Like many others who saw leadership opportunities in the vast canvass of national politics that awaited former governor Peter Obi, I feel a sense of utter shame that he is sacrificing all that in pursuit of vendetta against his friend and incumbent governor of Anambra state, Chief Willie Obiano.
The multiple rallies held across Anambra by the Peoples Democratic Party (PDP), 16thOctober 2017, has unlike no other event in recent memory highlighted the import of the Igbo expression, Ochu nwa okuko nwe ada (which literarily means: "you can't run down an innocent man).
Interestingly, Chief Peter Obi's ploy to use the PDP and their candidate's quest for power in Anambra to further his ill-advised three and half year old pursuit of Obiano has finally exposed his underbelly. First he hijacked the party machinery, scared away core-PDP members, foisted his lackey as the party's flag-bearer, and proceeded to use the platform for personal vendetta.
For a political party that is still carrying baggage of despoiling Anambra for years, the PDP rather than reinvent itself, seems to have allowed the former governor to drag them and their candidate into his eight year old sterile argument about phantom bequeaths to the current governor of Anambra; a campaign strategy hinged on his eight years in office as governor under the All Progressives Grand Alliance (APGA), nothing could be more tactless.
Unfortunately for Peter and his PDP, the flag-off Rally at All Saints Field Onitsha touted as the mother of all gatherings to unveil their candidate was deserted by many of the advertised big-wigs and core PDP members who pulled the rug under. To worsen matters, the parallel rallies held at Ekwueme Square, Awka; Omagba Layout, Onitsha; and the endorsement of Obiano by a group of PDP stalwart led by Chief Annie Okonkwo (Agunechemba) at another venue, have driven the final nail in the futile hijack of the party machinery and Peter's hate-filled agenda. After these events, one needs no further proof that indeed, "the glory has departed from Peter.
For an event that was supposed to define the party's candidate, Mr. Oseloka Obaze, the vengeful theme of all the speeches and comments practically left him struggling to make clear distinction of his agenda for Anambra. Hence alongside the party, he ended-up without any traction to ride on after the flag-off. It was undeniably evident that candidate Obaze's spirited effort to say how he will 'start where Peter stopped in Anambra,' came to naught. Those who left the venue and viewers on television were confused and marveled at the lost opportunity to make alternative case to the giant strides of Obiano in Anambra state, thus leaving his ambition forlorn even before it took off. No thanks to the dictation of Peter, his godfather.
Now that Mr. Peter Obi has succeeded in defining the PDP in Anambra and its candidate in unflattering mold of hate mongers, some have expressed worry that the burden of hate may yet take a toll on the man. This is more so, for abandoning the best opportunity to step back from the edge following Obiano's exemplary public apology and reconciliation of the duo earlier in the year during the burial ceremonies of their Late Principal Rev. Fr. Nicholas Tagbo at the Christ the King College, Onitsha.
Having further polarized the PDP in Anambra and made a wimp out of its candidate by drowning his voice at the rally, Peter has only himself to blame for threading the path of infamy. Perhaps, realization may yet come, but he should beware of the continuous dance to the drum beats of hate and vengeance against a man who never personally uttered any foul word against him. There is no doubt that in desperation the much vaunted 'Mr. clean" is fast unraveling, and if care is not taken he may dance into political oblivion.
All told, great men have monuments in bronze and marble set up for them, but Peter's hankering for vengeance is setting him outside the scrolls of honour such that even the little goodwill which was within his grasp is fast eroding with his ensuing dance to oblivion. Ochu nwa okuko nwe ada, nwa okuku nwe ngwo ngwo oso.
Ejimonu writes from Ogbunka
Disclaimer:

"The views/contents expressed in this article are the sole responsibility of

Ejimonu Udenka

and do not necessarily reflect those of The Nigerian Voice. The Nigerian Voice will not be responsible or liable for any inaccurate or incorrect statements contained in this article."