Osun 2018: Contenders relax after date announcement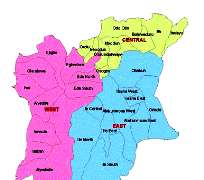 There has been an obvious tense relaxation after the Independent National Electoral Commission, INEC, announced that the 2018 Osun Governorship election is billed for September instead of the earlier anticipated date.
The Contenders, thinking time is still on their side and probably being economical, have relaxed the tempo of their campaign.
Those that have initially started public campaign, our reporter noticed, are now cooling off, probably waiting for the best time to strike again.
Speaking on this development, Special Adviser to the Deputy Speaker, Federal House Representative, Rt Hon Lasun Yusuff, Dr Ajala Remi, said "Let me say that on the part of Rt. Hon. Lasun Yussuff, the INEC announcement does not stop our political processes of becoming Osun State Governor in 2018. We have completed our consultation of 28 out of 31 local government areas including Modakeke before INEC announcement. We are left for only two local government areas of Ila and Odo otin. These two local government are very strategic politically due to residence of two former state governors in them. So we left them out for political reasons.
"Meanwhile the National Assembly resumed from break three weeks ago and since then, DS has urgent national assignments that occupied him. Despite that Teamlasun goes ahead with the next phase of our governorship processes.
"INEC only forbids open campaign, which include rallies; but subtle movements such as political consultations and mobilization are not forbidden.
"Part of our ongoing processses after the INEC announcement is setting up our structures in all the local government areas, encouraging people to regularly hold party meetings in their wards and local government and preparing for local government election. Our approach is methodological .
"But as for other candidates in APC many of them do not have financial strength to engage in consultation. They can not meet the benchmark set by the DS and do not want to be embarrassed. One of them begun consultation but stoped after visiting two local government having seen he financial pressure imposed on him."
Expressing his view on the matter too, Rotimi Makinde, said, "INEC is guided by the law.The recent pronouncements of INEC is necessary to streamline so many fundamental errors being perpetrated by gladiators.This coming from the body also help the party towards enforcing discipline.Before now,osun state Apc gave similar directive advising all interested person to remain calm and not to divert the governor attention in governance,some complied while others remained undaunted. I want to see how the party will react to those set of people galavanting here and there and touring the state despite the directive,it was also funny that some supposed leaders of this same party were seen rolling out red carpet to receive those desperate gladiators.very shameful.
"With INEC official directive, I would love to see the party helping in the enforcement to make our society a better place.It is also in their own interests, more time to draw the strategies and to save them unnecessary. If only we can have party discipline." He added.