Buhari's request for special attention on the North in order: Ezekwesili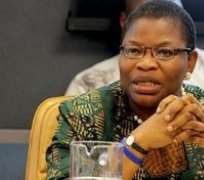 Former Minister of Education, Oby Ezekwesili,  has said that what President Muhammadu Buhari discussed with the President of the World Bank Group, Jim Yong Kim, about special attention to the North especially the North East is nothing unusual.
Ezekwesili was  a Vice-President of the World Bank for  Africa Region  from May 2007 to May 2012.
The loquacious former minister said a series of tweets using her verified Twitter handle, she said the priority given to North East in Buhari's discussion with the world bank boss was necessary as the region is a post-conflict area
She was quoted in a report by Channels Tv as saying, "The prioritizing given to North East in discussion between @JimYongKim & @MBuhari is thus NOT UNUSUAL AT ALL. Let's NOT POLITICIZE IT please.
"It, however, DOES NOT MEAN that the REST OF SUCH COUNTRY becomes NEGLECTED in the Knowledge & Lending Programs of the Bank. NOT AT ALL. At time they met in 2015, serious work and discussions already took place among Development Partners on HOW BEST TO HELP STABILIZE North East," she said.
Ezekwesili said the statement by the world bank president is not as it sounds adding that, as a post conflict zone, the North needed special attention. She said the priority given to the North East became necessary when it joined the list of zones the destabilization with worsened Human Development.
"The FACT of that statement by the @WorldBank President @JimYongKim is NOT AS IT SOUNDS. I will explain. I want EVERYONE to KNOW that the statement made by the @WorldBank President @JimYongKim IS NOT AS IT SOUNDS. I should KNOW. I was VP there.
"As a practice, POST- conflict zones -e.g. Northern Uganda, Northern CAR, Eastern DRC receive Special Focus from WorldBank. It MAKES SENSE!"
She, was quoted further as saying,that when she became the Vice President of World Bank, the strategy was to prioritise quick intervention to post-conflict areas which the North-East falls into.
"Our Africa Strategy when I became VP of @WorldBank 48 countries including Nigeria PRIORITIZED QUICK RECONSTRUCTION of PostConflict areas.
"The Evidence-Based justification for PRIORITIZING Post-Conflict Reconstruction is that it helps BUILD RESILIENCE & Prevents a RELAPSE. Prioritizing Reconstruction of the Post-Conflict zone in ANY of those countries FACTUALLY PROVED to be KEY for REST OF COUNTRY GROWTH&STABILITY!"
Ezekwesili said the Buhari's conversation with Yong Kim was turned into an issue of controversy due to the existing tension in Nigeria. She, therefore, called on President Buhari appreciate feedback and conduct a review of its administration
"FEEDBACK is IMPORTANT for IMPROVING GOVERNANCE especially in a country as DIVERSE as ours. President @MBuhari can make this moment COUNT. Our President, @MBuhari &his FG @NGRPresident @AsoRock @ProfOsinbajo seize on moment to CONDUCT a DIVERSITY REVIEW of their Administration," she said.