Davido arrested for questioning over friend's death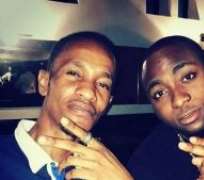 Popular Pop star, David Adeleke aka Davido, has been arrested by police in Lagos in connection with death of his friend, Tagbo Umeike.
Umeike is alleged to have died in controversial circumstances recently at a Lagos bar while he was said to be hanging out with the singer.
An earlier report indicated that the man died after drinking challenge in which Davido promised give out a brand new iPhone 8 for the person who wins the challenge.
The Gurdian reports that the police in Lagos State have said that Tagbo Umeike, the late friend of music artiste, David Adeleke, popularly known as Davido, died from suffocation.
The Commissioner of Police, Imohimi Edgal, stated this yesterday at a briefing in Lagos, where he announced that Davido has been re-invited for questioning.
According to Edgal, the autopsy report revealed that Tagbo died from suffocation, adding that Davido's driver and two of his friends abandoned him in his car at the hospital. "He has been re-invited for questioning because he lied that he only knew of Tagbo's demise while he was at DNA nightclub, in Victoria Island, a claim that has been found to be untrue," he said.
Tagbo reportedly died on the eve of his birthday last week Tuesday at a bar in the Lekki area of the state. Two other associates of the singer, DJ Olu, 25, and Chime Amaechi, were found lifeless in the former's BMW car parked in the underground garage of Block B, Banana Island, Lagos on Saturday, three days after Tagbo's death.
A Nigerian actress, Caroline Danjuma, had, through a post on Instagram, accused Davido of dumping Tagbo's corpse at the General Hospital, Lagos, after he allegedly died in his (Davido's) car.
The actress alleged in the post, which she later deleted, that Davido and his crew fled after depositing the body.
The police boss said Davido was re-invited for questioning because he lied that he only knew of the Tagbo's demise while he was at a nightclub, DNA in Victoria Island, a claim that has been found to be untrue.
Tagbo, Davido and Danjuma
According to him, Close Circuit Television (CCTV) footages obtained from the General Hospital, Lagos, revealed that Davido's escort Hilux vehicle driver and two of his (Davido's) friends took the deceased to the hospital and abandoned him there.
He said: "On October 3, around 9:20a.m. the Chief Security Officer (CSO) of General Hospital Lagos, Oparanti Moshood alerted the Divisional Police Officer (DPO) Lion Building that an unidentified male was brought in dead in an Ash Toyota Camry Saloon car marked LSD378EL by two unidentified males.
"From the international passport found in the deceased's car, the DPO gave his identity as Tagbo Umeike. Immediately after, one Caroline Danjuma, an actress and the victim's fiancee, published on her Instagram page that her boyfriend died in the company of one David Adeleke alias Davido and friends.
"To be objective and verify facts, I called for a pre-investigation meeting in my conference room. In attendance were all parties including family, friends of the deceased, those of Davido, Caroline Danjuma, the DPO and investigating officers.
"The meeting confirmed that the deceased Tagbo Umeike on that day, met and had drinks with friends at Shisha Bar amongst whom was Davido. The bar tender confirmed the deceased had as much as 40 stots of Tequila and exhibited signs of drunkenness. The CCTV footage also confirmed this.