Students scampered For Safety Over Fear Of Alleged deadly vaccine Injection By Military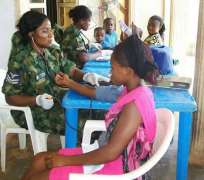 Students from public and private schools in Asaba, Oshimili South local government council of Delta State have reportedly dashed out of their classes over alleged rumour of deadly vaccine injection by military authorities.
Trouble started Wednesday in the state capital when students abandoned their studies mid-way and took to the streets uncontrolled following the unconfirmed rumour that the military authorities would allegedly come to their schools to inject them to death.
The alleged "news" filtered into Asaba as early as 9: 00am when some of the schools were having their first lessons.
It was gathered that the rumour was carried out by some students who came late to school, and spreading to other schools like a wide fire, noting similar incident had played out in some neighbouring states in the eastern part of the country.
Some school heads who could not curtailed or control the students quickly alerted government authorities for intervention but this was too late as the students were already out of their school premises to avoid been injected to death.
Following the rumour, the state government summoned heads of security personnel which include the police, Department of State Security (DSS) and others for quick intervention.
Reacting to the bizarre incident, the state government advised both parents and teachers not to panic as there is no iota of truth in the rumour.
In a press release signed by the Commissioner of Information, Patrick Ukah and made available to journalists in Asaba, the government debunked the rumour in its entirety.
According to him, "It has come to the attention of the Delta State Government that parents and guardians are withdrawing their children and wards from schools following unsubstantiated rumours of students and pupils being lethally injected by unknown persons.
"Government states without equivocation that the rumour is absolutely false and baseless. There has been no such reported incident in any school in Delta State. We advise parents and guardians to remain calm and go about their normal businesses.
"Meanwhile, the State Government urges all school heads to take appropriate measures to secure their schools and ensure that students and pupils are properly accounted for until the close of school every day.
"In the same vein, the State Government is, by this announcement, calling on all security agencies to be on the alert to forestall the antics of mischief makers who may want to take advantage of this false rumour to cause panic and havoc", the release added.