Health |

11 October 2017

12:54 CET
Monkey Pox: Osun Govt asks Health Workers to be vigilant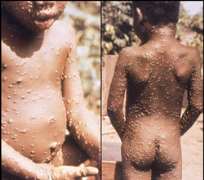 The Osun State Government has asked all its health workers to be on red alert in the face of the outbreak of Monkey pox disease in some parts of the country.
The move, according to the state commissioner for Health, Dr Rafiu Isamotu became necessary to insulate the state against the outbreak.
Isamotu stated this during a press conference in Osogbo, the state capital, adding that no case of monkey pox has been recorded in the state.
He explained that the state government has begun sensitization of the public and would soon begin training of health personnel.
As part of the measures taken by state government, Isamotu said three isolation centres have been put in place.
"We have been proactive, we have sent signal to all health officers in the state to be on red alert. We have made a proposal for the training of health personnel.
"Our hospital in Osun are working, our health workers are on the field to sensitise the people and educate them properly," he said.
Describing the deadly disease as a viral infection, the Health Commissioner said Monkey Pox is virus transmitted to humans from animals.
According to him, the first symptoms of smallpox usually appear 10 to 14 days after being infected.
"During the incubation period of seven to 17 days, you look and feel healthy and can't infect others.
"Following the incubation period, a sudden onset of flu-like signs and symptoms occurs. These include; fever, over discomfort, headache, severe back fatigue, severe back pain, and vomiting, possibly.
Isamotu who stated categorically that there is no specific vaccine to be used to cure the disease, urged the people of state on the need to keep their environment clean at all times.
He therefore urged the general public to call 08033908772 and 08035638608 should there any case .