White House: First Lady Melania and Trump's first wife in war of words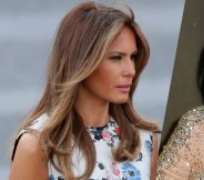 Melania Trump's office dismissed Ivana Trump's suggestion that she has a deeper bond with President Trump than the first lady, saying Trump's first wife is desperately trying to stir up interest in a new book.
"Mrs. Trump has made the White House a home for Barron and the President," Stephanie Grisham, a spokeswoman for Melania Trump, said in a statement on Monday. "She loves living in Washington, D.C., and is honored by her role as First Lady of the United States. She plans to use her title and role to help children, not sell books. There is clearly no substance to this statement from an ex, this is unfortunately only attention-seeking and self-serving noise."
In an interview with ABC News , Ivana Trump said she speaks to Trump every couple weeks — and that she has a "direct number" to call him at the White House.
"I [don't] really want to call him there, because Melania is there," Ivana Trump said.
"And I don't want to cause any kind of jealousy or something like that, because I'm basically first Trump wife, OK? I'm first lady," she continued, laughing.
"I think for her to be in Washington must be terrible," Ivana Trump said of Melania. "It's better her than me. I would hate Washington."
Ivana, though, was not done tossing shade in the first lady's direction.
"Would I straighten up the White House in 14 days? Absolutely. Can I give the speech for 45 minutes without [a] teleprompter? Absolutely," she said. "Can I read a contract? Can I negotiate? Can I entertain? Absolutely. But I would not really like to be there. I like my freedom."
The Czech-born former fashion model and businesswoman was Trump's first wife and is the mother of his three eldest children — Donald Trump Jr., Ivanka Trump and Eric Trump. She and Trump divorced in 1992 amid revelations that he was having an affair with Marla Maples, who Trump married in 1993. The same year, Maples gave birth to Trump's fourth child, Tiffany Trump. Their marriage ended in 1999. Trump married Melania in 2005.
Ivana Trump, 68, also said that after Trump was elected president, he offered to make her U.S. ambassador to the Czech Republic, but she declined.
"I said, 'Donald, no.'" Ivana Trump said. "'I want my freedom.'