IPOB: Prince Emmanuel Kanu lashes Sacked IPOB Lawyer, Barrister Obetta
Calls him a Saboteur - incompetent - sell out - opportunist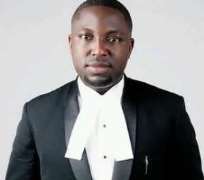 The brother to the leader of the Biafra restoration project under the auspices of IPOB [Indigenous Peoples Of Biafra], Prince Emmanuel Kanu has tagged the sacked lawyer to Prince Nnamdi Kanu a saboteur and a sell out who compromised his intergrity for monetary and political gains.
Barrister Obetta whose competence to handle a case of such magnitude was questionable, exposed himself through various intergriy and competence tests at the start of the case. This and many other revelations about Barrister Obetta was made known to the media by the brother of the IPOB leader, Prince Emmanuel Kanu. He further posed challenging questions to the lawyer whom he alleged mortgaged his intergrity to political and material fortune.
Vincent Egechukwu Obetta……
Why did you refused to file form 48 or contempt of court against the federal government of Nigeria when the order to release IPOB leader Mazi Nnamdi Kanu was severally disobeyed? Because you sold IPOB to the Nigerian government and soon after you bought a new car and a house in Enugu state from your blood money.
Vincent Egechukwu Obetta…..
You told one Mr Emmanuel from Benue state , a DSS officer in Asokoro, Abuja that the only reason you agreed to represent Mazi Nnamdi Kanu was for pecuniary gains which you have today shamelessly confirmed.
Vincent Egechukwu Obetta…….
You refused working with other Biafran lawyers simply because of your greed and evil intentions. When IPOB ran a back ground check of who you are, it was discovered you were born in the North, lived in the North and studied in the North before your relocation to Enugu Biafra land. Today you secured a job as SSA to Enugu state governor Ifeanyi Ugwuanyi as part of your reward towards attemting to destroy Nnamdi Kanu's case. Before you took the case, who knew you on the political field?
Vincent Egechukwu Obetta…..
What's the difference between you, Nnia Nwodo, 5 south east governors, Orji Uzor Kalu, Rochas Okorocha and president PMB? Biafra land bleeds. Universe is on the side of justice………….. Remember that IPOB sacked you because of your incompetence, unprofessional practices and emptiness of character.
The same character with the Biblical Judas will yield the same end like the Biblical Judas.