Ariana Grande shows off her new grey (not silver!) hair on Instagram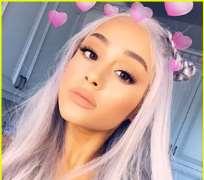 On Saturday, Ariana Grande showed off her newly dyed grey hair on Instagram, clarifying that even though it looked like a purple-tinged silver in the photo, it was actually grey. "Btw (it's grey)," she captioned the photo, which she put a heart-filled filter on.
Earlier that day, the Dangerous Woman singer , 24, shared a picture of her friends — and boyfriend Mac Miller — hanging out at night which also showed off her new color.
While Grande's known for her signature brunette locks, this wouldn't be the first time she's switched things up in the follicle department.