Female Inmates ain't forgotten no more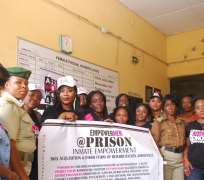 As a society we are quick to forget that those in prison is as a result of acting on a wrong thought and a few times the innocent end up in jail. In yet another give-back initiative, African Women Honors and Empowerment, an NGO with chapters in several countries, over the weekend visited female inmates at the Kirikiri prison in Lagos Nigeria to provide welfare services and vocational training as part of their drive to empower women regardless of their status and affiliation.
It was such an amazing experience with the female inmates at the prison as the organisation which is a global initiative established to celebrate, unite and empower women through its EmpowerHer Projects was eager to produce people that can easily be part of a community without the stigma of being an ex-convict.
The female inmates received training in bag making, shoe making and makeup handled by our members who are also established entrepreneurs, Bukky Ashafa of Oba Couture, Iniobong Obinna-Onunkwo of Little Weavers and Kabirah Adesekola of Kabeerahs Cignature respectively. The female inmates were also part of acting classes taken by a Nollywood actress, Kofya brown. A medical team was also on ground to provide free health consultations, an important aspect for the women who constantly need psycho-social support and health services.
Project leader for the prison outreach, Kemi Naiyeju said they decided to venture into this area as the society has the responsibility to take care of these helpless citizens. "It has been such an inspiring experience being able to see the smile on the faces of these women. I see how much their spirits have been lifted by this initiative and such people are sisters and mothers to many in our country and neighbourhoods. This has given them a reason to be hopeful for a future after incarceration."
The city manager for AWHE Lagos chapters, Elizabeth Okogun said the country needs more initiatives like this for the female inmates and other vulnerable people whom often are forgotten. Our network and other chapters are also planning similar initiatives later this year, as we continue to give-back and empower women nation-wide. This particular initiative was tagged "EmpowerHer - Female Inmates Edition". And it's a good thing to see sisters excited about helping other females. More information on BlackWomenAwards.com