How Invisible Children Falsely Marketed The LRA Disarmament and Northern Uganda Recovery Act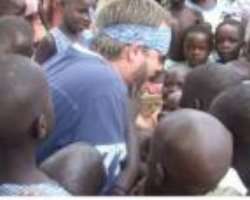 Michael Otim Kirkpatrick shown in one of the camps in the northern part of Uganda
By Michael Kirkpatrick
[Op-Ed: Africa]
I have travelled frequently to Uganda since 1998.
In 2007 I had the privilege of travelling extensively through the northern part of Uganda and visited the town of Gulu and several Internally Displaced Persons (IDP) camps.
I am an independent global citizen that does not represent any charity, church, NGO, or government. I have partnered with my Ugandan friends to help the underprivileged and vulnerable people in their villages and communities.
I appreciate the work that that many charities and non-governmental organizations are doing to raise awareness and advocate peace in the northern part of Uganda. Through the efforts of many of these people, the world and its leaders are aware of the horrible 21-year war in the northern part of Uganda, The Lord's Resistance Army, Joseph Kony, and Ugandan President Yoweri Museveni.
Recently there has been increased focus on issues in the northern part of Uganda thanks to the grassroots efforts of Invisible Children. The organization has utilized its marketing prowess and creativity to capture the hearts and minds of thousands of students and young adults. Invisible Children and its supporters have worked tirelessly to help create and lobby the recently passed "LRA Disarmament and Northern Uganda Recovery Act".
You may think that I would welcome the passage of this bill as a beacon of hope for my friends in northern Uganda. I am not supporter of this bill. The bill opens the door for the American military to legally militarize Uganda in the name of humanitarian efforts.
It legitimizes the mission of AFRICOM on the continent and gives military forces a home base in Africa to continue the "global battle on terrorism," combat the growing presence of China, and defend American interests regarding natural resources.
To gain support for this bill, Invisible Children propagated misinformation to its idealistic followers. The battle cry to pass this bill was "to end the longest running war in Africa".
They conveniently combined multiple regional conflicts into one lump statement. The region of northern Uganda has been free of LRA rebel activity for over five years now. There is now peace and rebuilding going on. When I confronted the administration of Invisible Children about this information, they stated in an email:
"I agree with you that leading people to believe that the war is still happening in Uganda is not ethically right. It's something we've been addressing internally, focusing on getting all staff and supporters on the same page in regards to the language they use in their communications."
I have been aware of Invisible Children since its inception. I admire their ability to mobilize passionate people and raise awareness about injustices in the world. I have often disagreed with their strategies but chose to focus on the work of my Ugandan friends inside Uganda. The recent passage of the "LRA Disarmament and Northern Uganda Recovery Act" has forced me to speak up.
I believe that Invisible Children as a tax-exempt 501(c)3 organization has violated the standards set forth by the US Internal Revenue Service (IRS) when it comes to political activism and lobbying activity. The organization has been deeply involved with the recent passage of the "LRA Disarmament and Northern Uganda Recovery Act".
Their website proclaims "We Did It!" and is full of information about the organization's direct involvement in Congressional legislation. They have also posted many videos on YouTube proclaiming their personal mission the have Joseph Kony arrested. www.InvisibleChildren.com
http://www.youtube.com/watch?v=qn8D3zjVDA0
In an email from Andrew Morgan, Invisible Children's Communications Officer in Uganda, he stated:
"We needed the bill to pass (and spent donor money trying to ensure that it did) because Joseph Kony's capture is crucial to the recovery of northern Uganda."
Federal law prohibits political lobbying and activity by organizations that have a tax-exempt 501(c)3 status. Invisible Children, Inc. should be audited by the IRS or voluntarily surrender their tax-exempt status.
I am not anti-Invisible Children. I am not pro-LRA. I am pro-truth. Propaganda and misinformation does not help develop solutions to global challenges. It only exacerbates the problems. Invisible Children needs to respect the law that they so valiantly expect others to follow.
Please see IRS Rules for 501(c)3 Charities and Non-Profits Regarding Lobbying Activity
http://www.irs.gov/charities/article/0,,id=163392,00.html
"In general, no organization may qualify for section 501(c)(3) status if a substantial part of its activities is attempting to influence legislation (commonly known as lobbying). A 501(c)(3) organization may engage in some lobbying, but too much lobbying activity risks loss of tax-exempt status.
Legislation includes action by Congress, any state legislature, any local council, or similar governing body, with respect to acts, bills, resolutions, or similar items (such as legislative confirmation of appointive office), or by the public in referendum, ballot initiative, constitutional amendment, or similar procedure. It does not include actions by executive, judicial, or administrative bodies.
An organization will be regarded as attempting to influence legislation if it contacts, or urges the public to contact, members or employees of a legislative body for the purpose of proposing, supporting, or opposing legislation, or if the organization advocates the adoption or rejection of legislation.
Organizations may, however, involve themselves in issues of public policy without the activity being considered as lobbying. For example, organizations may conduct educational meetings, prepare and distribute educational materials, or otherwise consider public policy issues in an educational manner without jeopardizing their tax-exempt status."
The author is an American who has made frequent trips to Uganda. In Acholi he was given the adoptive name Otim Michael
Please post your comments about this article directly online. Sometimes longer postings are truncated so feel free to forward your postings to [email protected] to ensure that it appears in its entirety
"Speaking Truth To Empower."
|
Article source