Osun 2018; residents express mixed feelings on APC retaining power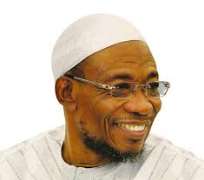 Mixed feelings have trailed the possibility of the All Progressives Congress, APC, retaining the seat of power in Osun State come 2018.
The 2018 governorship election is fast approaching and the two major parties, APC and PDP, are working toward winning the election.
During a cross section with The Nigerian Voice, some residents of the state think the APC government has failed and would not likely get reelected. Other residents however, think the ruling party still has some advantages over the opposition party and might still win the coming election.
Joshua Adeniyi on his part said, "the possibility that APC will win is still cloudy, analyzing the present political situation especially the recently done Osun West Senatorial district election, the election indicates that if APC do not tighten their belts, then the possibility they win is thin except they strategise effectively. "
Isaac Grace also said, "the possibility is zero, people are dying in hunger during their regime and they are ready to change."
However Tajudeen Yinka said the party has done well in serving the State and would still get reelected. He said, "Very possible, as long APC put its House in order. Osun, like Nigeria has no credible opposition and Aregbesola has truly delivered in terms of infrastructural development that has positioned the state for future accelerated development.
"He may however need to close the gap of salary arrears to give hope for the civil servants."
Adbulrasheed Adebiyi also said, "APC is still the party to beat in Osun. The party has done well for itself and the state. The only thing it needs to get right is uniting its members who are nursing grudges as a result of the last senatorial election in Osun West when APC members voted against the party's candidate. The party has to guide against imposition of candidates. It has to ensure that its candidate for the election emerges through a free and fair means.
"The PDP is still in the woods and has not got its bearing right which puts it in a position of vulnerability."