Electricity: Regulation on metering will be out next month: Fashola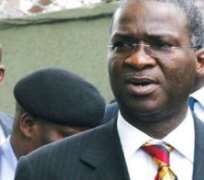 The Minister of Power, Works and Housing, Mr. Babatunde Fashola, has stated that the Nigerian Electricity Regulatory Commission (NERC) would release the regulation that would define eligible customers in the power sector by this month, THISDAY reports.
Speaking Thursday in Lagos at a power roundtable organised by the Lagos Chamber of Commerce and Industry (LCCI), the minister also disclosed that the regulatory authority would next month issue the regulation on metering to enable the distribution companies to sell bulk power in their feeders to meter service providers, who will provide meters to customers and sell the power to them.
Fashola said the new regulations were in line with the Electric Power Sector Reform Act of 2005, which he described as one of the best piece of legislations that has ever come out from the National Assembly. The minister further clarified that there is no exclusivity in any Disco or Genco, stressing that NERC is empowered by law to license a new Disco within an existing Disco, provided the new license would not diminish the commercial viability of the original holder of the license.
Source: Energy Mix Report