Nigeria @ 57: Lawyer, Former Commissioner Urges Proactive Measures To Fix Problems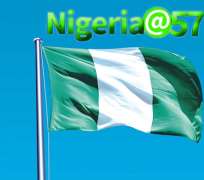 A Delta based lawyer Mr Frank Esenwah and former Commissioner in the state Mr Jerry Ossai, have advocated for proactive measure to fix Nigeria, following many years of challenges since her independence in October 1st, 1960.
The respondents, who bare their minds in an interview Saturday with newsmen in Asaba, lamented the rate of underdevelopment of the country 57 years after.
They said that doing things same ways over many years have not produced the right results, adding that there was need for everyone to agree and show commitment in the development of the nation.
They charged the leadership of the country to think of true federalism and to promote effective utilization of the huge human and material resources available in the nation.
They hold that going by the amount of natural resource deposits including oil and gas that the issues of poor roads, lack of portable water, epileptic electricity supply, and abject poverty among others should not remain a challenge in Nigeria.
According to Mr Esenwah, the way forward is to devolve power and resource control to the states.
"Call it true federalism or restructuring, we cannot properly harness our growth potentials in the present over centralized unitary government that we pretend is a federation.
"Cocoa grew in the West in the 60s, so did oil palm and coal in the East, there was rubber in Mid-West, just as there was cotton, groundnuts, tin and columbites in the North.
"We do not hear these nowadays instead all Tom, Dick and Harry have plunged into oil and those who champion regional development at your pace in the past have now become champions of pseudo federalism anchored on oil wells".
The lawyer said that each state has its own peculiar resource, needs and management skills that could be deployed to its growth rather than the present system of going a begging cap in hand to collect monthly allocations.
On his part, the former Commissioner for Agriculture and Natural Resources, Ossai, said that all Nigerians were responsible for the state the nation found itself.
He said that Nigerians elected those who plunged the nation into mess, adding that previous administrations had misled the people and that the people had not been proactive to demand explanation from their representatives.
He said that the leadership had taking advantage of the people over the years by perverting justice and enthroning corruptions which eventually stagnated the nation from moving forward compared to other nations.
"All of us are to blame, we elected the politicians to mislead us and unless we enthrone justice in Nigeria, this country is heading for the precipice," Ossai said.