SYLVA VS EBEBI, END GAME OF POLITICAL CHESSBOARD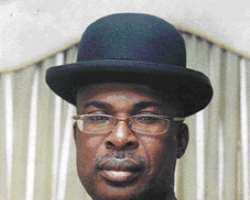 Gov. Sylva
Since November, 2009 when Bayelsa Deputy Governor, Perembowei Ebebi led a protest against Governor Timipre Sylva over the outcome of the primaries for the local government elections in Ekeremor local government area, things have never been the same with them.
Their feud finally came to a head recently when the duo engaged each other in recriminations over the recent bomb blast that rocked the state. They were also at each other's jugular over who is at fault over the cause of their disagreement which turned made them bitter enemies.
Popularly known as Odudu, Ebebi took his fight against Sylva to a higher level when he granted an interview carpeting Sylva and boasting that the House of Assembly cannot contemplate to impeach him.
To his supporters, Ebebi's patience has been stretched to the limit, and he has to fight back to salvage his political career and assert himself in governance which in the first place, he contributed to bring into place. They argued that, Ebebi is not a small fry in Bayelsa politics, and he cannot just be pushed away by a governor whose popularity cannot match his own.
However, for Ebebi's antagonists, the deputy-governor has an exaggerated opinion of himself which has made him to commit a big blunder that he would regret.
For them, Ebebi being a lawyer displayed crass ignorance on the constitutional limit of the office of a deputy-governor and committed political suicide by hobnobbing with Abel Ebifemowei, former governor Diepreye Alamieyeseigha's henchman to launch attacks at Sylva. They maintained that the much talked about backing from Abuja is fluid, and Ebebi would soon realize that he is in for a long walk into the cold.
The rise of Odudu
In 1999, Rt. Hon Peremowei Ebebi left legal practice and contested for elections into the State House of Assembly to represent Ekeremor constituency 11.
He contested the Speakership with Heineken Lokopbiri and lost gallantly to the latter who has the backing of Alamieyeseigha.
By 2001, the relationship between Lokopbiri and Alamieyeseigha had gone sour and the former was becoming a threat unless he was removed. Alamieyeseigha turned to Ebebi for help and in a matter of days Lokopbiri was impeached and replaced with Ebebi as Speaker. Ebebi was Speaker till 2003 and re-contested elections into the House where he had hoped to retain the position of Speaker, but Alamieyeseigha's cousin and confidant, Ebifemowei had other plans. Secretly between the duo, they had planned to dump Ebebi for a much younger and loyal politician, Boyelayefa Debekeme. On the day of the inauguration of the Assembly, Ebebi realized too late that he was no longer the beautiful bride and Debekeme won overwhelmingly.
Between 2003 and 2005, Ebebi's political profile went down as he was an ordinary floor member whose access to Alamieyeseigha and the levers of power had been cut off. However, by 2005, an opportunity of revenge presented itself when Alamieyeseigha ran foul of the law and was arrested in London. Back home, former President Olusegun Obasanjo activated impeachment process and Ebebi was recruited to lead it. First Debekeme and his deputy, Foinghan Jepthan, were impeached, and Ebebi was made the Speaker, the second time.
Thereafter, Ebebi with all political gusto led the impeachment against Alamieyeseigha which paved the way for Jonathan to be governor then. Jonathan nominated Ebebi as his deputy and they were in government together till 2007 when after he emerged the gubernatorial standardbearer of Bayelsa, he was elevated to Presidential running mate.
Though Jonathan nominated Chief Francis Doukolagha and Dr. Boladei Igali to replace him as governorship aspirant and running mate respectively, Ebebi kicked against the nominations and fought tooth and nail to get the ticket. When it was certain that he was not going to get it, he teamed up with Sylva and they jointly mobilized forces to get the ticket.
Cracks in the wall
There is no gainsaying that under Jonathan's governorship, Ebebi was pampered and related to with caution because of his seeming influence on the Assembly. Even though loyalists of Jonathan were not comfortable with him, they decided to tag along with him to stabilize the government. It was the same privilege enjoyed under Jonathan that he expected under Sylva, but the latter being an old politician himself believes Ebebi was overstepping his bounds.
According to sources, Ebebi wanted to conduct himself as an alternative governor and Sylva relying on the Constitution called his bluff triggering the current crisis.
Unknown to Ebebi, some people he discussed his plans to contest the next governorship elections with had leaked the plot to Sylva who in tandem with his strategists decided to cut his access to power. This was what made Sylva to pointedly accuse him of conniving with known opponents of the government to set in motion the process to impeach him from office.
Sylva captured it better:' I must confess to you, the relationship between me and the deputy governor is not okay. The rift is real, and it is because he believes he is the one that should have been governor. You know he has been here as deputy-governor and right from the beginning he felt to be the governor was his birthright.
'The deputy governor is used to a different style. He was used to being in charge when he was acting governor after the President became running mate in 2007.
That transition and shock of adjustment has been affecting him. He has not been able to come back to the reality. But I have been managing him' But Ebebi has also fired back hitting hard at Sylva, branding him a democratic dictator who runs a one man show government. According to him, all efforts to make Sylva see reason and listen to other people's opinion about governance were futile.
'Our frosty relationship is not sudden. It has always been like that. When he came on board he said he wanted the Ministry of Local Government Affairs to be under him. He wants everything under him. He is the omnibus governor. He is governor omnipotence, omnipresence and omniscience. Even in the conduct of local government elections, I cannot have a say in my ward'.
Political suicide
In accordance with the high wired politics going on in Bayelsa, many believe that Ebebi has shot himself in the legs over his conduct since the disagreement with Sylva became public knowledge. According to a source, when the National Working Committee (NWC) intervened in the matter in 2009, Ebebi was put in his proper place and was told to go and work with Sylva and if he finds it difficult, then he should resign.
However, rather than listen to the counsel of the NWC, the source said Ebebi was listening to Ebifemowei who unknown to Ebebi, was nudging him on to launch series of attacks on Sylva through sponsored protests because he is aware that would make Ebebi commit political suicide that may eventually lead to his removal.
Ebifemowei is said to have vowed in 2005 never to forgive Ebebi for leading the impeachment of his brother, Alamieyeseigha and has been pretending all along that he was with him all in his bid to ensure Ebebi makes a fatal mistake.
More importantly, the backing Ebebi thinks he enjoys from loyalists of Jonathan according to sources is empty as the group has 0decided not to intervene in his travails, to pay him back for what he attempted to do to Jonathan when he was governor.
Shortly after Ebebi protested against Sylva in 2009 over the results of the local government primaries, a close confidant of Jonathan told Daily Sun that no member of their group would put any word to save him because he deserves whatever he gets from Sylva.
'There is nothing we can do to save him. He is not a progressive politician. There is nothing that you give to him that he is contented with. He is always interested in the position you are holding. Under Jonathan, after all what we did for him, he was interested in Jonathan's position. It took us a while to know that all the attacks against Jonathan that time which we thought were coming from Alaibe were actually from Ebebi'
Investigations also revealed that with the approaching elections, it is in the interest of majority of political leaders in Ebebi's Bayelsa West Senatorial District that his power is neutralized so that he would have no say in the next elections.
It is not a hidden fact that Bayelsa west leaders like Senator Heinekein Lokopbiri, Hon Serikae Henry Dickson, Hon, Fred Agbedi and Hon Fyneman Wilson have nothing in common with Ebebi and would prefer him to be in the cold rather than be calling the shots as deputy governor.
Another source close to both Ebebi and Sylva said Ebebei's problem is because he surrounds himself with mediocres who are only interested in what they can collect from him instead of giving him sound advice.
Enter lawmakers
In February, after the Economic and Financial Crimes Commission (EFCC) arrested some top government functionaries, an influential member of the House of Assembly was in touch with an aide of Sylva on how to have a meeting with Ebebi so that all outstanding issues could be resolved and they would have a formidable team that can withstand external pressure. However the meeting did not materialize until the crisis blew open. Even at that, the House of Assembly has deliberately refused to be drawn into the feud because of the relationship it shared with the duo.
But investigations revealed that things are changing with some members of the House pushing for the impeachment of Ebebi over his public comments and conduct against Sylva. Daily Sun checks indicated that the lawmakers' reason for moving against Ebebi is not entirely because of Sylva but his boasting that the House cannot contemplate impeaching him. The lawmakers were also said to have been livid that the deputy governor cast aspersion on the House by suggesting that members only sit when they have money.
Already signatures are said to have been collected and the process would soon be activated unless the lawmakers have a change of heart. Ebebi is said to have got wind of the plan but is confident that it would fail considering some influential members he has to his side.
Not only that the Chief Judge is his cousin but while she might not be able to stop the constitution of an impeachment panel, she can influence the composition with those that have sympathies for him.