Anambra PDP Candidate Confesses of Cheating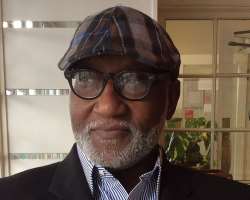 Anambra PDP CandidateThe Peoples Democratic Party candidate in Anambra State, Sir Oseloka Obaze has unwittingly admitted to cheating and sabotaging the current governor and people of Anambra while serving as Secretary to the Government until June year 2016.
Speaking Sunday night on Channels Television programme Politics today, sir Obaze in attempt to deny allegation from another PDP aspirant that he is not qualified countered: " I joined the PDP quietly in January 2016."
Those who saw Sir Oseloka Obaze as former Governor Peter Obi's mole in the Obiano government may be justified after all. This is sequel to the admission by the PDP flag bearer in the up coming gubernatorial elections in Anambra state on Channels Television that he actualky switched allegiance even while serving as Secretary to State Government.
In his own words: " I joined PDP quietly in January 2016.
Available records show that the man who is now strenuously plotting with a former governor to unseat the incumbent governor Obiano, only resigned as SSG in June 2016 six months after he switched allegiance to another party different All Progressives Grand Alliance (APGA).
What does this conduct say about the man who prides himself as a "Diplomat," what does this tell us about the character of the man whom, some earlier warned is "treacherous" and that he has been tapped as a vendetta candidate even when it is obvious he is steeped in uthopia, making postulations about policy thrusts that are not practical but rather alien to Anambra of today.
Ejimonu Udenka writes from Orumba.