Imo State debt stock hit unsustainable N112bn in six years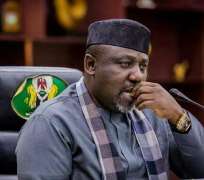 Barely two years to the end of Governor Rochas Okorocha's second term in office, Imo State government's loan portfolio has hit an unsustainable level, comprising N93.27billion domestic loan and $60.22million foreign debts.
At a conservative exchange rate of N305 per dollar, both the domestic and foreign debt stock amount to N112.4billion as at December 30, 2016, the highest among five states of the South East.
Data released by the National Bureau of Statistics (NBS) and Debt Management Office (DMO) show that Anambra State has the least domestic loan stock of N3.99billion.
However, the state (Anambra) has $62.88million foreign debt stock, the second highest behind Enugu State which has $73.59million foreign debt and N48.42billion local debt.
Abia and Ebonyi States' debt stock tied at $41.29million (foreign) with very slight difference in total domestic debt at N53.53billion (Ebonyi State) and N53.33billion (Abia State).
It is doubtful if the Imo State government's huge loan was obtained to execute any known infrastructural project that can generate revenue to service the loan analysts say will take a minimum of 15 years to liquidate given the state's low internally generated revenue (IGR).
In 2016, Imo State total IGR stood at N5.87billion (N489m per month) while the year's FAAC allocation was N30.26billion, an average of N2.52billion monthly.
There are strong indications that the state's foreign debt component was ostensibly used to finance several foreign trips abroad by the state executive and some members of his cabinet.
When contacted over the telephone for comments, the Chief Press Secretary to Governor Rochas Okorocha, Mr. Sam Onwuemedo, promised to get back to our reporter but failed to do so as at the time of filling this report.
Several calls and text messages to his telephone did not elicit any further response one week after he was initially contacted to confirm or deny the state government's debt stock and throw light on projects, if any, the loans were meant to finance.
Okorocha was reported as claiming to maintain a debt-free profile for the state since assuming power after routing former Governor Ikedi Ohakim's bid for second tenure.
Towards the end of his tenure, Ohakim had raised N18.5billion loan in bonds largely for nebulous Oguta Wonder Lake project and spent about N4.7billion on questionable renovation work on Oguta Motel and controversial borehole projects in the state.
On assuming office, Okorocha inherited about N13.7billion of the bond money, spent part of it on building a modest civic centre in Oguta, and diverted the balance to building hospitals and primary schools, majority of which remain uncompleted.
George Irechukwu, former Finance Commissioner of the state, told our reporter that the Ohakim administration handed over a total of N28billion in cash to Okorocha, implying that the state was not in any deficit even with the subsisting N18.5billion loan.
Commenting on the situation, Irechukwu who spoke on telephone said Imo economy was not isolated from the national economy with its huge, unsustainable debt stock describing the huge debt as grave and worrisome.
He said, "If it is true the state is owing as much as has been alleged, it is grave and worrisome. Even if the domestic component of the debt was granted at 20 percent interest, it will amount to almost N19billion interest. So, the entire IGR of the state cannot service the interest let alone paying the principal."
"But the pertinent question we have to ask is what projects were the huge loan used to execute? If there are infrastructures built with the loans, those infrastructures should generate revenue to service the loan. It is unfortunate. I think Imo State will have opportunity in 2019 to correct this type of mess. They should be tired of selfish, visionless, directionless leadership," Irechukwu stated.
He, however, advised the government to begin to explore alternative sources of internally generated revenue (IGR) so as to make things a bit easier for successive administrations.
Research analyst at the Lagos Chamber of Commerce and Industry (LCCI), Dr. Vincent Nwani, said that the implication for the state is as grave as the debt is unsustainable, stressing that it is going to pose critical challenge to Okorocha's successor.
"For a state with less than N6billion IGR, it means that the government may spend at least 24 months servicing only loans, not to talk of paying the principal sum. Unfortunately, I know that most of these state governments didn't borrow to build any infrastructure that can generate revenue to pay back the loans or for any useful developmental projects. The future generation will suffer it," Nwanni stated.
In his view, if the Imo State debt stock is real and was not tied to any revenue yielding infrastructural projects, then the future of the state and its youths had been mortgaged for many years to come.
Johnson Obi, an Imo-based financial expert said, "assuming the federal account allocation (FAAC) fund is used to pay workers' salaries, pensions and execution of government projects, it will take Imo State 5 years and 9 months to liquidate about N40 Billion at an average of N6.77 Billion/per year internally generated revenue; given her capacity of internally generated revenue for the past five years."
Governor Okorocha rode to power on a popular slogan of "Rescue Mission" to wrestle power from the incumbent governor Ikedi Ohakim whose administration became quite unpopular among the citizens following public outcry against some of his actions in power.
How much Okorocha has been able to rescue the state, could be seen in the many months of workers' salary arrears, more than 24 months of unpaid pension arrears, contractors' unpaid debts, and abandoned projects.