Treat minorities well: Atiku tells Buhari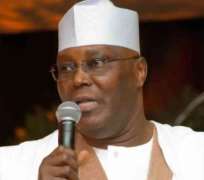 ATIKU Abubakar, former Vice President, said Wednesday that Nigeria can show example to the world on how to treat minority groups by placing high priority to the treatment of its minorities and the way it treats them.
Reacting to President Buhari's address to the United Nations General Assembly, Atiku said that minorities all over the world deserve the cooperation of majority groups
In a statement from his media office in Abuja, Atiku said President Buhari did the right thing by drawing the UN's attention to the sufferings of Myanmar's Rohingya people, cited by the UN as perhaps the world's most persecuted minorities.
He congratulates President Muhammadu Buhari on a successful outing at the 72nd Session of United Nations General Assembly in New York on Tuesday the 19th of September, 2017.
Atiku aligns with the President's message of gratitude to the international community for their efforts in the Lake Chad region which has helped bring succor to Nigerians affected by the scourge of terrorism.
"It is my sincere desire that arising from President Buhari's speech, the UN will increase its support to Nigeria and her neighbors in the Lake Chad Region as we redouble our efforts to rid the region of the scourge of terrorism and restore peace and prosperity to a once thriving zone", he said. – The Nation