Nigerian Army denies Declaring IPOB Terrorist Organisation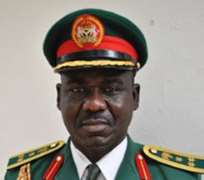 TUKUR Buratai, chief of army staff, on Monday, stated that the Defence Headquarters, DHQ, did not declare the Indigenous People of Biafra, IPOB an terrorist organization in the country.
Speaking during the official launch of Operation Python Dance II in Abakaliki, the Army Chief who argued that what the Defence Headquarters did was a pronouncement on IPOB added that the statement of the military gave room for the right steps to be taken on the matter.
According to Buratai, the action of the Federal government concerning IPOB was right and that the military did not over step its bound towards the protection of lives and properties in the country.
"You have to get it very clear. First of all, what the Defence Headquarters did was to make pronouncement. It wasn't a declaration per se. But this has given room for the right step to be taken. I think the government is doing the right thing.
"It is not that we are overstepping our bounds. We are still within the limits. And I ensure you that what the military said was to set the ball rolling and to bring the awareness to the public that this is what this organization is all about. I'm happy that the government has done the right thing right now.
The Chief of Army staff, General Tukur Buratai further assured the people of the Southeast that the Army will abide by the rule of law and rules of engagement in carrying out the Exercise Egwu Eke II which kicked off on Saturday in the region.
Also in a courtesy to Governor David Umahi of Ebonyi state who was represented by his Deputy, Dr. Kelechi Igwe, the Chief of Army Staff noted that the exercise was targeted at improving the security situation of the zone which according to him, was very strategic to the security of the country.
According to him the exercise will help to bring about the much needed peace and security and also be used to train the Military in basic internal security.
"They army have taken into cognizance the security of the people in deployment of it's personnel for the operation".
He said the army in carrying out the operation will liaise and work with other security agencies in the region.
"The army is very sensitive to the cultural norms of the people and will abide by all the rules of engagement and code of conduct that have been laid down which is quite in tandem with the Constitution".
According to him, some of the activities of the exercise will include Patrols, indoor battle exercises, Civil-Military cooperation activities like medical outreach, sanitation, donation of books to schools etc.
He therefore appealed for understanding.