IBORI, OKOWA FUED: Relationship Too Concret For Crack --- Fovie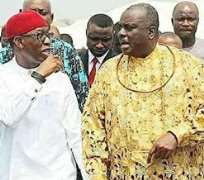 Delta Central Senatorial District's Peoples Democratic Party (PDP), Chairman, Chief A. P. Fovie, has said that the alleged crack in the political relationship between a former governor of the state, Chief James Onanefe Ibori and the incumbent governor, Senator ifeanyi Okowa, is a dirty lie from the pit of hell.
While describing their relationship as very healthy and robust, he said the bond of unity between Ibori and Okowa was cordial.
He gave the revelation when members of "Team Ibori For Okowa 2019", paid him a courtesy visit in furtherance of the group's strategies to get a formidable footing in the grassroots across the state.
Fovie, who expressed overwhelming admiration over the formation and activities of the group since its birth in the state, said he was happy to have them physically around him, and commended the group for toeing a new dimension by tying the group's name to Chief Ibori, who is widely acknowledged as the foremost political leader and progenitor of modern politics in the state.
The Chairman stated that Chief Ibori, in a meeting on Sunday, said that the bond between him and Senator Okowa is too concrete for anyone or anything to effect a crack, saying they have come a long way with a long distance yet to be covered in their journey of friendship.
He said that Governor Okowa is a very humble and respectful Governor who is neither puffy nor carried away by the luxuries and authority attached to power which in most cases gets others off the track.
Fovie described the All Progressives Congress (APC) alleged propagandious attempt to take over the state as day dreaming which can only manifest in the world of imagination, adding that there is no vacancy in Government House, Asaba.
The group's aims and objectives were presented to him by the State Coordinator of Team Ibori For Okowa 2019, Hon Edmond Guanah.
The state Secretary of the group, Comrade Mathew Oji, who described Chief Fovie as a political philosopher and an embodiment of political wisdom, prayed God to sustain his life to continue to make impact in the state's politics and promised to come back to him and others whom the group have so far visited, to say thank you after fulfilling the task of ensuring the governor's success in 2019.
Hon. Mackson Ukoli, who gave a vote of thanks on behalf of the group, thanked Chief Fovie for his fatherly counsel and entertainment and described him as a political father who has done so much in sustaining the party.