NNPC, ExxonMobil partner to increase gas for power generation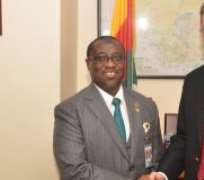 he Nigerian National Petroleum Corporation (NNPC) has said it is seeking out new measures to expand existing operational portfolio with a view to increasing crude oil production, and availability of gas for power generation.
The corporation stated that the move will involve its upstream joint venture partner, ExxonMobil.
A statement by Ndu Ughamadu, Group General Manager, Group Public Affairs Division, of NNPC in Abuja on Friday, said the Group Managing Director of NNPC, Dr. Maikanti Baru, stated this when he hired a delegation from the United States-based global oil Corporation, led by its Senior Vice-President, Mr. Jack Williams.
Speaking after a meeting with the delegation, Dr Baru said the joint venture with ExxonMobil, which until recently was the highest producer of crude oil in the country, was primed to make a rebound.
He said the Corporation had advanced talks with ExxonMobil on major operational issues like improved drilling to increase production and refurbishment of crude oil pipelines as well as supply of gas to the planned Qua Iboe Independent Power Plant among others.
"More importantly we also discussed their recommitment to supply gas to the domestic market and this is something that is very positive and they are willing; we would quickly roll-out the programme to ensure that sufficient gas comes in for the IPP. We also secured a commitment from them to end gas flare at QIT and other production areas," he said.
Describing the meeting as very fruitful, Williams on his part noted that ExxonMobil was committed to growing its production in Nigeria.
Williams also hinted that ExxonMobil was set to increase its JV budget for 2018 operations.
Source: IWIN